Welcome to the Innovation Hub
Our Innovation Hub in Coventry gives you the chance to interact with Schneider Electric's EcoStruxure technology. Here you can discover our IoT solutions, including integrated software and how these can help you become ready for the smart industry of the future.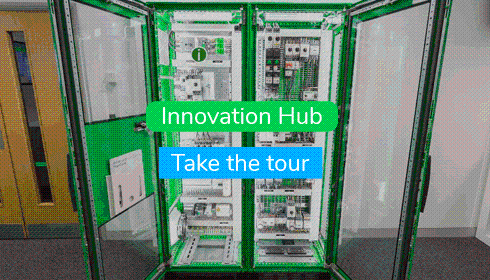 Take a Virtual Tour
Take a Virtual Tour of our Innovation Hub and discover the future of Energy and Automation.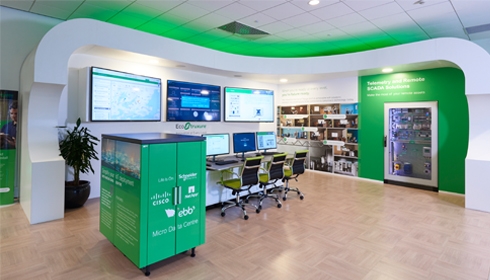 Discover future possibilities
A personalised tour in our Innovation Hub can help you understand how a smart manufacturing organisation can deliver new business opportunities.
Start your tour with our product experts
Start your tour with our product experts
Altivar Variable Speed Drives
The Altivar Process range of products and systems is the next generation of variable speed drives, designed to deliver IIoT benefits.
Augmented Operator Advisor
EcoStruxure Augmented Operator Advisor puts real-time information at your fingertips, whenever and wherever it is needed.
Delta Robots
PacDrive Delta 3 robots are designed for fast pick-and-place operations due to their short cycle times and an exceptional payload capacity.
Universal Enclosures
Enclosure and thermal management solutions to keep your critical equipment performing and improve energy efficiency.
Discover EcoStruxure for Industry

Our EcoStruxure architecture is a multi-layered platform for combining Connected Products, Edge Control and Apps, Analytics & Services for IoT applications. Explore our story in the video.

Industrial Augmented Reality with EcoStruxure

Interested in finding information faster, avoiding unnecessary downtime, reducing operational errors, and yet still have not tested AR technology for industrial application?  

 

Try the technology yourself by booking a tour of our Innovation Hub in Coventry. Simply complete the form below.
Booking enquiry for our Innovation Hub
Complete this form to enquire about booking a tour in our Innovation Hub, and we will be in touch to discuss your requirements further.
Thank you.
Your enquiry has been received by Schneider Electric. We will contact you soon.
Chat
Do you have questions or need assistance? We're here to help!