TeSys

U
An all-in-one motor starter up to 15 kW that combines thermal & magnetic protection, switching and contactor in a single product
TeSys U is the most compact motor starter. It covers main motor applications (direct on line, reversers, drive protection) from 0 to 15 kW (0 to 32 A) ensuring a breaking capacity of 50 kA with total coordination (according to IEC 60947-6-2).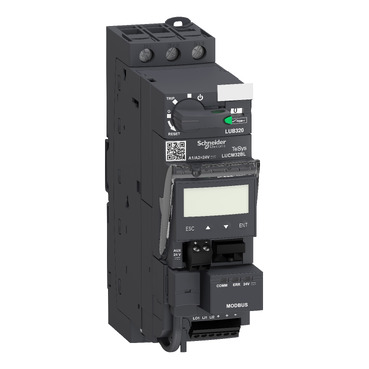 Features

With a capacity of up to 32A/15 kW, TeSys U consists of:

One 45 mm power base (1): 2 ratings, reversing or non-reversing, circuit-breaker function and built-in interference suppression
One clip-on control unit, from a choice of 3: Standard CU: protection against overloads and short-circuits/Expandable CU: + alarm and fault differentiation/ Multifunction CU (2): real time control of motor load, local or remote diagnostics and parameter setting
One clip-on automation control module, from a choice of 3: (3): Modbus, CANopen, AS-Interface and PROFIBUS DP, Ethernet, DeviceNet, Fipio, Interbus S via Advantys STB le module or a simple parallel link
Two optional 45 mm power functions: limiter-isolator(4) and changeover relay (5)

Benefits

Simple, efficient, modular and compact, the TeSys U motor starter adapts to a wide range of applications. It is one of the first intelligent starters capable of integrating motor control, control and changeover functions in a unit 45 mm wide. The device provides short circuit breaking capacity of 50 kA with perfect coordination.

Simple to Maintain: Modular, plug & play structure helps you to perform quick maintenance
Easy to Install and Use: Only 1 base plate & 4 control units up to 32 A
Efficient : Safe up to 45% of the time for installation and wiring
Flexible: Wire the starter completely in the workshop, define the motor on site with plugin of the control unit
Compact: Save up to 57% of cabinet space, reversing starter only 45 mm wide
Intelligent: Direct access to detailed information for every motor starter of your installation
Safe: Mirror contact as standard
Advanced: Advanced motor management

Applications

TeSys U all-in-one motor starter is dedicated to direct on line (including reverser) motor control applications.

Thanks to the high compactness and outstanding flexibility, it can be well adapted to all types of machines.

The strong communication capabilities, high breaking capacity and total coordination makes it highly suitable for process application.