Room Controllers
HVAC control for optimal comfort and energy efficiency
Application-specific room controllers offer the control of DDC systems with the user-friendliness of thermostats. Optimizing comfort through energy efficiency delivers a memorable customer experience while maximizing your return on investment.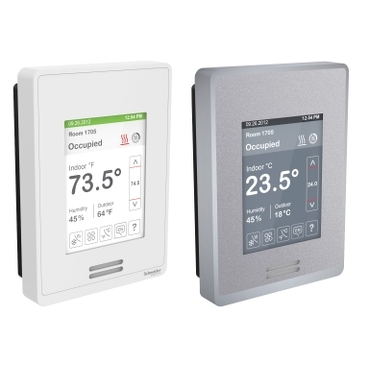 Features

Perfect for both retrofit and new construction projects, our room controllers are easily installed using existing wiring for minimal inconvenience. Available as stand-alone products, networked zoning solutions (wired or wireless), or integrated into larger building management systems, room controllers offer multiple options including motion and humidity sensors. With a scalable design, upgrades are made easy by changing communication modules, and can integrate accessories such as door and window contact sensors to further enhance any installation.

SE8000 series: A true global offer with unique customisable look and user experience
The perfect balance between simplicity and sophistication, the SE8000 Series combines proven application-specific control of HVAC systems with unmatched design and customer experience options. The SE8000 Series is available in 2 different casings and 10 different fascia's to compliment any decor. With a selection of 5 different screen colours, the touch screen area can be customized to include the image or message of your choice. Additionally, the SE8000 Series room controllers are multi-language and network-ready out-of-the-box for maximum flexibility. When integrated with a BACnet® MS/TP system, these controllers can display dynamic messages linked to events programmed in the building management system.

The SE8000 Series is ideal for hotels, office complexes, retail stores, universities, healthcare facilities, and more.

SE7000 series: Proven cost-effective control for all buildings
Smart energy management has never been easier than with the SE7000 Series room controllers. Dramatically decrease project delivery costs by reducing installation, configuration, and commissioning time. No complex software or tools are required to customize functionality in order to meet your applications requirements. The SE7000 Series provides all the advanced features and monitoring functions required by modern building automation systems in a simple "thermostat-like" enclosure. These room controllers are also network-ready for maximum scalability.

The SE7000 Series is ideal for hotels, offices, classrooms, dormitories/residences, hospitals, retail stores, and more.



Benefits

Enhanced building management through control, comfort, and energy savings
Lower installation costs, reduced installation labor, and faster commissioning time
No new wires (use existing wiring or go wireless)
Customizable design and unique user experience (SE8000 Series)
Improve brand awareness with the customizable display (SE8000 Series)
Quick ROI

Applications

SER8300 and SER7300

Line-voltage fan coil units (with SC3000 relay pack)

SE7200

Terminal equipment
Chilled beams, radiant heaters
Under-floor heating
Pressure dependent VAV

SE7300

Low-voltage fan coil units

SE7600

Staged equipment
Rooftop units and heat pumps
Zoning

*Other SE8000 series models coming in 2014 for low-voltage FCU, AHU, RTU, heat pumps and other equipment.