PacDrive 3

A complete automation solution for motion-centric machines




PacDrive 3 is based upon proven logic motion technology, which unifies PLC, motion, and robotics control functionality on a single hardware platform. With its centralized system architecture, PacDrive 3 is the ideal solution for controlling a broad range of servo-driven production and packaging machines, as well as material handling equipment and robotics, using fully integrated, IEC 61131-3-compliant program structures. More than 80.000 machines worldwide are controlled by PacDrive to this day.
PacDrive3 - Scalable Automation Solution

For years, PacDrive control technology has allowed users to have synchronized multi-axial motion, PLC functionality, and robotic control on a single hardware platform. This open technology utilizing international standards is aimed at reducing hardware and software complexity.
Downloads
Features
• One integrated, scalable automation platform, scalable controller performance from 0 to 130 servo drives and robot axes
• Single controller solution for motion, PLC logic, and communication; no additional and/or proprietary hardware required for the complete machine (incl. robotics)
• One programming tool / one program for the complete machine, IEC 61131-3-compliant programming design 
• Software can be ported between platforms 
• Fully integrated Ethernet-based communication using Sercos for I/O, drive and safe communication 
• Open system, supporting other field busses as well as TCP/IP communication 
• One of the most flexible drive solutions with single and multiaxis drive solutions, cabinet based and as well integrated servo drives 
• EcoStruxure™ Machine Expert (formerly known as SoMachine) based tools, supporting the engineering process, including safety programming/parameterizing,commissioning and diagnostics 
• Embedded safety approach with safe logic controller, safe I/Os, safe drives and safe communication over Sercos Automation bus for safety solutions up to SIL 3, PLe (according to IEC 61508: 2010, EN/ISO 13849: 2008) 
• Robotic solutions (kinematic packages, including drives, electronics and software) up to IP 65
PacDrive 3 is your automation solution for faster time to market and for maximum reliability 
• Modular programming concept with comprehensive application software libraries for less programming efforts and higher software quality (Libraries for compliance to PackML and Weihenstephan standard, as well FDA and PLCopen compliant library functions) 
• Centralized calculation of all axis positions within the controller, allowing the controller to switch on the fly from real to virtual axes. Enables motion testing/simulation without connecting drives/motors 
• Standard parameterization of each axis, configuration of individual drives requires only input of inertia for each load 
• Fast device replacement: Electronic type plates for all servo drives/motors, detailed communication with each drive/motor for automatic parameterization and firmware replication (all data are centrally stored in the controller) and diagnosis 
• Fast commissioning with automatic Sercos scan after changing machine configuration/restart: The controller recognizes all connected drives/motors and can activate/deactivate them automatically based upon the modules connected to the machine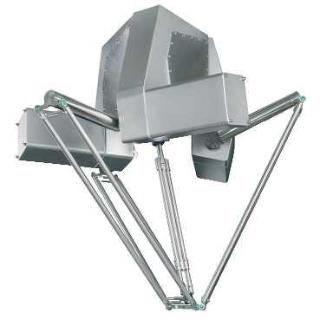 Lexium Robotics
Delta, SCARA and Cartesian robotic solutions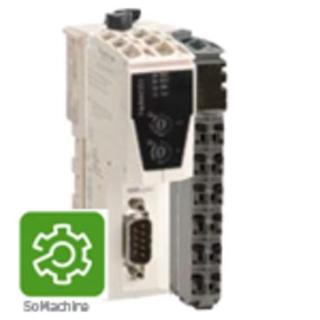 Modicon TM5
IP20 modular I/O system for complex machines or installations (up to 2400 I/Os)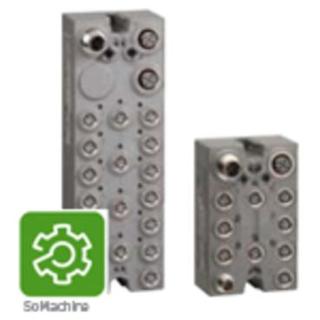 Modicon TM7
IP67 modular I/O system for machines or installations in harsh environment
Documents and downloads
Access offer documentation, support information, software updates, certificates, customer references and more...
Contact sales and support
From technical support to complete customer service, we care about your business and individual needs.