All our Easy UPS products are:
Easy to install
Designed for quick and easy deployment for home office and entertainment systems, and small and medium businesses.
Easy to use
Pre-wired batteries delivered separately for easy connection.
Easy to maintain
Easily maintain and service your UPS for a stress-free solution.
Easy UPS 3 Ph: Business continuity made easy
The 3-Phase Easy UPS provides stable power with robust specifications and long-lasting performance to ensure business continuity. Designed for fast and easy installation in data centers or electrical rooms, this UPS features a wide-operating temperature window and strong overload protection, all in a compact and lightweight footprint. Schneider Electric's Easy UPS keeps essential equipment stable and connected, even in unstable conditions.
Introducing the
Easy

UPS 3-Phase ranges:

Easy

UPS 3-Phase Modular,

Easy

UPS 3S, and

Easy

UPS 3L

Easy-to-install, easy-to-configure, easy-to-use, and easy-to-service 10-200 and 250-600kVA (400V) 3-Phase UPS, ideal for small, medium, and large businesses, commercial buildings, and light industrial and other mission-critical applications.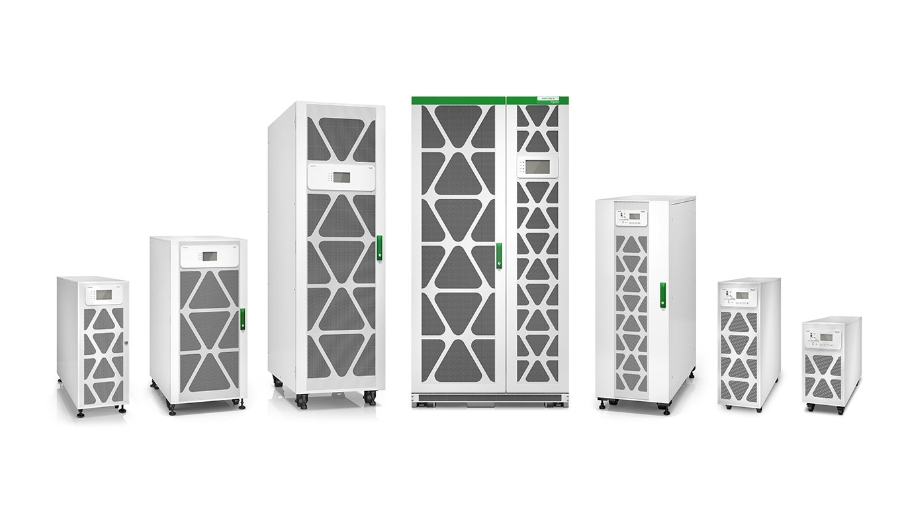 Discover more about Easy UPS 3 Ph
Easy UPS 1 Phase: Peace of mind against the risk of a power outage
Offering advanced technology at an affordable price, Schneider Electric presents its new Easy UPS. Developed to handle a wide range of conditions experienced in home office, home entertainment and small business systems. Free up your energy to focus on your customers, and don't let the risk of a power outage affect your work.
Consistent and reliable connectivity
Backup power for home communication devices and small to medium businesses means you'll stay connected and never miss alerts or other warnings. Deliver a seamless digital customer experience, even during severe weather and power disruptions.
Power reliability for stress-free work life
Protect sensitive home electronics from power surges and ensure your equipment delivers the peak performance you expect for your business.
Discover more about Easy UPS 1 Ph
Easy UPS 1 Ph brochure
Explore the wide range of input voltage, double conversion online topology, unit efficiency, and more.
Tour the Easy UPS 1 Ph range
Discover all of the Single-Phase Easy UPS offers and technical guides.