MiCOM E124
Auxiliary Capacitor Trip Unit
MiCOM E124 is an auxiliary device typically used to provide energy to the trip coil of a circuit breaker in distribution systems. Models available: MiCOM E124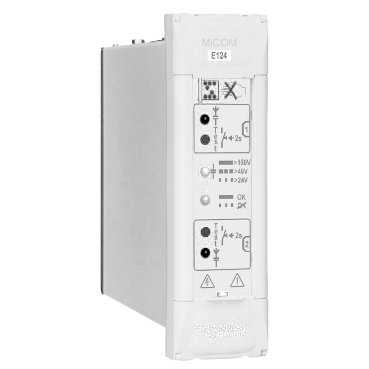 Features

MiCOM E124 trip unit can be used in all cases where a battery and charger would otherwise be necessary to trip the circuit breaker. Such is the case in substations where there is no auxiliary supply, and where protective relays draw their auxiliary power from current and voltage transformer circuits.

Thanks to the two-independent set of capacitors (2*59J under 300Vdc), it allows several applications:

Energize two different trip coils
Two consecutive trips on the same trip coil
Energize a powerful trip coil (up to 118J available)

In other cases where auxiliary supply is not secured or reliable, MiCOM E124 can also be used as back-up power supply during a voltage dip or an interruption of supply to prevent the device from resetting/rebooting.

Standard Manufacturer's Warranty: 2 years

Benefits

No need to use batteries
Reduced maintenance
Simple installation / replacement thanks to a compact and withdrawable module
Extended temperature range (-25 ° C, + 55 ° C), usable in unheated substations
Smoothing of network voltage dips

Applications

The following applications are possible thanks to the two independent capacitor banks monitored by a microprocessor:

Energizes two types of tripping coils
Allows two consecutive triggers (300 V / 59 J) without reloading
Provide power to tripping coils up to 118 J

Another use of the MiCOM E124 is to overcome the risks of an insufficiently secure auxiliary power supply. In this case, it is used in power protection relay which avoids during an interruption or a voltage drop, inhibition, reset and / or inadvertent restart of the equipment.