Shielded Solid Insulated Switchgear
Discover the new compact MV Switchgear featuring SF6-free Shielded Solid Insulation (2SIS) and incidentally touch safe system.
Part of Set Series
Premset dramatically improves the most important aspects of today's MV Switchgear. It introduces a compact (SF6-free), smart grid ready solution with the simplest installation and service procedures due to insulation and shielding of all live parts. Premset is the first ever MV Switchgear to attain the SILVER AWARD in electrical safety (voted by Plant Engineering).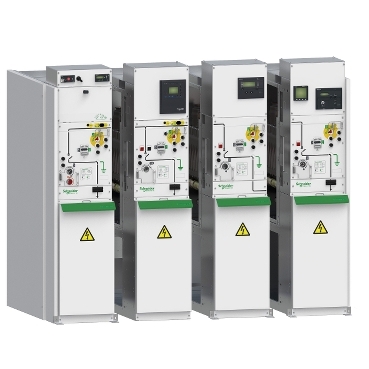 Features

Range composed of compact, smart and modular units up to 15 kV, earth shielded solid and easily adaptable to specific requirements:

Circuit breaker and switch-disconnector using vacuum technology
Rated PF withstand voltage: 95 kV
Rated busbar current: 600A and 1200A
Rated max short time withstand current: 25 kA (2 sec)
Cable grounding switch: 25 kA Fault Making
Degree of protection: NEMA 1
Dimensions W x H x D (in.): 14.75 x 65 x 36

Functional units:

5 circuit-breakers: D01N, D02N, D06N, D06H, D12H
Short Circuit Interrupting Rating: 25kA
Technology: Shielded Solid Insulation
Standard: ANSI/IEEE

UL Listed

Standard Warranty Period : 18 months

Introducing Premset

Premset Shielded Solid Insulation System (2SIS)

Premset Design & Installation

Premset Operation

Premset Values: Smart Grid ready

Benefits

A technological breakthrough, opening the way to unprecedented safety, efficiency, and ease of use:

Increased safety and reliability in harsh environments: insulation and shielding of all live parts ensures a longer service life with less maintenance than traditional medium voltage switchgear.
Flexible, simple, modular, and functional: easy to install and easy to use, with operator-friendly switchgear and optimized service thanks to 2SIS technology.
Smart grid ready, distributed intelligence: advanced protection, control and monitoring, fully integrated for higher dependability and energy efficiency.

Applications

Premset applications can be found in all medium voltage market segments including:

Industrial
Large Commercial
Building and Infrastructure
Healthcare
Data Centre
Water Treatment
Metals and Mining