Altivar

1260
A versatile medium voltage pump, fan, and compressor drive serving multiple segments.
Part of Altivar
The Altivar 1260 is a versatile medium voltage pump, fan, and compressor drive serving multiple segments. Its modular design allows a wide range of ratings and the intuitive architecture makes it easy to operate across the full life cycle.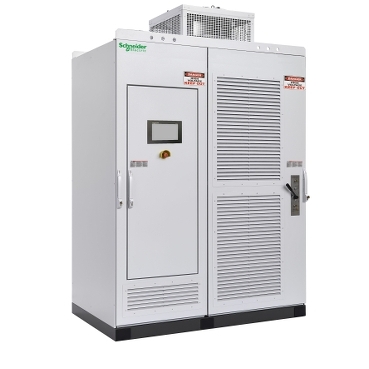 Features

The air cooled Altivar 1260 is composed of a diode rectifier and a medium-voltage IGBT inverter designed to control both synchronous and induction AC motors in a wide variety of industrial applications.

It can control motors with one or several windings and cater to the needs of redundant, single-motor and multi-motor solutions.
The system offers RS-485 and Ethernet as basic communication modules, along with a powerful local HMI and a web application that allows control and diagnostics from your PC via your web-browser.

Its modular high quality design allows a wide range of power (700 to 6,500 HP @ 4,160V, 3 phase) while the intuitive architecture makes the Altivar 1260 more reliable and easy to use and maintain across its full life -cycle.

The Altivar 1260 combines the latest vector control strategies with the control of 3-level inverters using the latest semiconductor technologies commanded via fiber optic cables. Designed from the 'inside-out' to be both grid and motor friendly.
Key features:

•Modular and scalable architecture
•Close coupled or separate rectifier transformer
•Flexibility for multiple options and configurations
•Powerful CPU with imbedded programmable control
•Robust quality and testing programs
•Quickly adapts to new or retrofit situations
•Single voltage auxiliary power feed
•Compact footprint with a high quality enclosure
•24/36-pulse rectifier with MV IGBT inverter
•Powerful control & motor protective functions
•Output filter delivers a motor friendly waveform
•Intelligent diagnostics and data trending capabilities
•Easy to navigate local Human-Machine-Interface
•Web Application for remote monitoring & control
•Intuitive tools that require less training
•High converter efficiency saves energy
•Integrated UPS for control backup
•Easy to maintain with slide out power modules
•Conservatively rated components raises MTBF
•Low component count = higher reliability




Applications

Pumping
Fans
Compressors
Part of a full line of complementary MV equipment all backed by Schneider Electric's global energy management experience and world-class customer support services.