Type A and B Reversing Drum Switches
2601 Designed for motor rated up to 7½ HP
2601 Type A and B Reversing drum switches are designed to start and reverse motors by connecting them directly across-the-line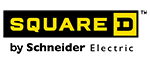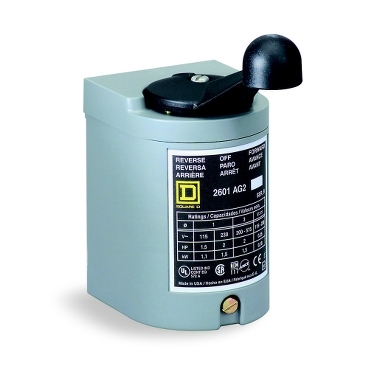 Features




Designed for motors rated up to 7½ HP
· 600 Vac and 250 Vdc maximum

Large movable contact segments are rigidly attached to the main operating shaft. Fully insulated from each other and from the shaft, both the movable and stationary contacts are plated for maximum life.

Extremely accessible terminals are provided for easy wiring.
· Type A is provided with screw type terminals
· Type B is provided with pressure wire connector terminals
· Contacts are not replaceable

Operating Mechanism supplied from the factory for maintained position (i.e. when the handle is moved to the forward or reverse position, it will remain there until moved) operation and can be easily converted with no additional parts needed to provide "spring return to off" operation.

Handles:
· One piece die cast handle standard on NEMA Type 1 and Type 4 devices
· Ball and shaft type handle optional
· Fluted type handle optional

Wide range of enclosures available:
· NEMA Type 1 General Purpose
· NEMA Type 3R Rainproof Outdoor
· NEMA Type 4 Water tight and Dust tight
· NEMA Type 13 Oil tight for flush mounting

Overload and low voltage protection are not incorporated in these reversing drum switches. Should the power fail, the contacts will remain closed, unless assembled for momentary operation, and the handle stays in the selected position. The motor will restart when the power returns.

Meets UL and CSA requirements


Benefits

Type A and B Reversing drum switches are designed to start and reverse motors by connecting them directly across-the-line. The devices may be used with squirrel cage motors; single-phase motors designed for reversing service; and series, shunt, and compound DC motors. The applications should be such that across-the-line starting of the motors is not objectionable, unless other means is provided for limiting starting current and torque. Drum switches are field convertible from maintained to momentary operation for flexibility.

Applications

The reversing drum switches find application wherever manual reversing control is desired. They are particularly suited for use on machine tools, woodworking machines, and similar types of equipment. Examples include lathes, milling machines, planers, grinders, shapers, and boring mills. Other possible applications include door operators, small hoists, and conveyor belts.