Schneider Electric's StruxureWare for Microgrids Puts You in the Driver's Seat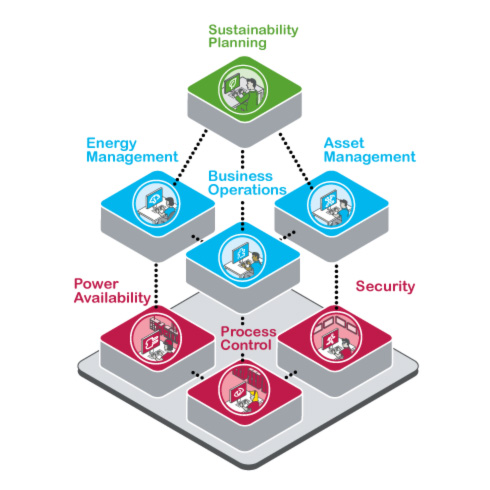 The StruxureWare™ software suite is a uniquely integrated platform of applications to manage critical energy and other resource data across your microgrid.

Realize significant savings on capital and operational expenses by:

● Controlling energy costs

● Managing business operations and optimizing performance

● Meeting reporting and compliance obligations

● Providing customized, timely performance metrics
StruxureWare Demand Side Operation
This software optimizes the operation of your microgrid and distributed energy assets. Using real-time pricing data feeds and weather conditions in conjunction with predicted load profiles,
it uses advanced algorithms to coordinate communications with the smart grid
and optimize your microgrid operation. By tracking, forecasting, and visualizing all microgrid parameters, it helps you control energy assets to maximize financial benefits while maintaining optimal operation. Demand Side Operation automatically predicts your energy flexibility for the next period and proposes it to the system for evaluation (with manual override capability). The system will then coordinate actions at scheduled times (for example by curtailing non-critical loads) and will manage all payment transactions.
StruxureWare Power SCADA Expert
Unlike generic SCADA packages, PowerSCADA Expert is tuned specifically for microgrid operation to enable electrical distribution network monitoring and control, through tools to enhance power system reliability and availability, optimize energy asset performance, and maximize operational efficiency. Its powerful architecture combines Schneider Electric's proven expertise in electrical distribution with the speed and control of high-performance SCADA to reduce outages while increasing microgrid system efficiency.
Highly scalable, flexible, and open architecture
System-wide data acquisition and interoperability
Power quality analysis and compliance monitoring
Alarm management and event logging for root cause analysis and downtime mitigation
Extensive tools to facilitate energy efficiency programs and power distribution management
Operational business intelligence and visualization tools – dashboards, reports etc.
Unique productivity tools speed deployment and lower costs
Essential protocols (Modbus, IEC61850, DNP3, SNMP) provide superior network integration and interoperability, ensuring all components interact seamlessly
Extensible through scripting and interoperability to fit specific workflow and operations
Scalability that evolves with your site to protect your investment
Modularity and redundancy to ensure high availability and fast response times
Highly accurate forecasts for your microgrid with Schneider Electric Weather Intelligence
#1
business-to-business weather provider in North America.
Global
forecasting operations center with 50+ meteorologists.
Lower
environmental impact and utilize a higher percentage of generated power from renewable energy using wind and solar forecasting.