Battery Chargers
Solar and Grid powered battery chargers for charging 10 batteries simultaneously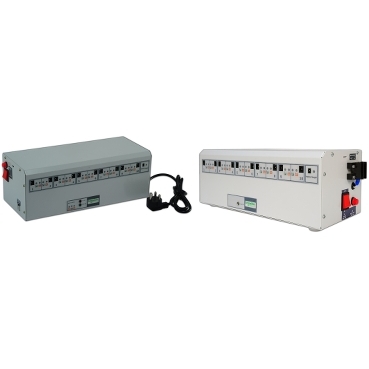 Features

The Villaya battery charger is a highly reliable and scalable device which is powered by solar panel and / or grid power and can charge 10 backup units simultaneously.
Each battery charger requires 150Wp solar panel at 12V to charge 10 nos of 12V, 5Ah batteries. The battery charger can also be powered from grid supply (110V – 270V, 50 / 60Hz, 1 Phase). A single battery charger can charge 1 to 10 nos of 12V, 5Ah Batteries simultaneously. The charging time is 6 to 8 hours depending on the sunshine and irrespective of the number of batteries. Mobile charging port is also available for charging a mobile. The battery charger is provided with an option to connect a 12V, 60AH / 120AH reservoir battery. When all the 10 batteries are charged , the additional charge is used to charge a reservoir battery. During the cloudy weather, the battery charger can provide one day to two days of autonomy to charge the 10 backup units using the energy stored in the reservoir battery.
Accordingly, the battery charger is available in following variants:
• Solar Powered Battery Charger
• Battery Charger powered by Solar and Grid supply



Benefits

• People who cannot afford a grid connection or solar home lighting system , can have reliable lighting and mobile charging.
• It helps the entrepreneurs who owns and invests on the battery charging station to earn his / her livelihood.

Applications

Lighting and cell phone charging for households and small shops without access to grid supply at an affordable price.