Switchboards and Enclosures
Switchboards and enclosures by Schneider Electric are designed to accommodate various electrical devices that distribute electrical power inside buildings. They help you control, measure, protect and regulate your electric power and facilitate related applications. Combined with intelligent Power and Motor Control systems, our switchboards ensure a more reliable and energy-efficient electrical environment.
High dependability switchboards, manufactured by Schneider Electric or its licensed partners. Okken and BlokSet switchboards are type-tested and fully compliant with IEC 60 439 standards. They fulfill requirements of the most energy-intensive sites, and of sites with harshest operating conditions.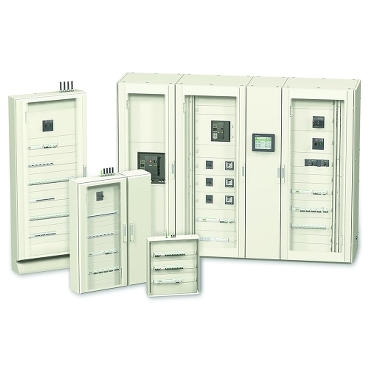 Prisma
LV Switchboards up to 4000A. Solution for tested low voltage switchboards up to 4000A
View Products
BlokSet
Low voltage switchboards for power distribution and motor control up to 7000 A. High dependability low voltage switchboards for power distribution and motor control
View Details
Pragma and Prisma Pack enclosures offer all solutions to seamlessly fit and connect Acti9 devices, such as miniature circuit breakers and residual current devices, in usual indoors locations. Kaedra weatherproof enclosures shelter Acti9 devices from more stringent environments, be it outdoors, building works, or industrial atmospheres.
Pragma
Modular enclosures. Selection of 13/18/24 surface and flush mounted modular enclosures guarantee you get the finish you want. With metal and techno-plastic options available, the modular enclosures will fit in with a wide range of pre-existing aesthetics.
View Products