S-Flexi
Versatility in installation and Combination Modules.
Sleek Design , Durable and safe. Easy to install. S-Flexi have the various product function and created in L(large) ,M(Medium), S(Small) and XS(Extra Small Size).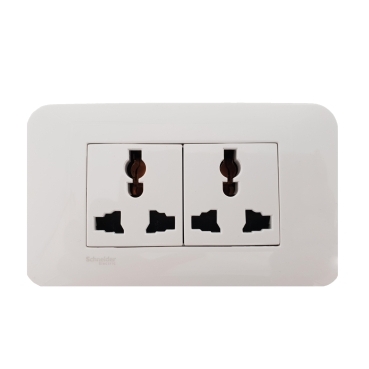 Fitur

Sleek Design: functionality look stylish. The combination of classic white color and streamline design is a testimonial of simple elegance. Better still, S-Flexi with FlexiFix helps you put up as many or as less wall plates as the interior design calls for.

FlexiFix Module Mounting Design: That is the unique design for the grid plate to allows you to position the modules anywhere along the inner slots of the grid plate. This, together with the standardized sizing of the modules, gives you an interchangeable modular system with insurmountable flexibility to create your switches and sockets the way you want them.

Made with high quality Polycarbonate (PC) materials: S-Flexi switches and sockets are virtually unbreakable. They are tested to comply with the IEC safety standards, ensuring maximum safety and reliability.
Various Function and equipment size: With a range of switch and socket modules of various functions , this range also have international socket to support customer. S- Flexi created in such standard sizes as Large (L), Medium (M), Small (S) and Extra Small (XS), S-Flexi enables you to optimize your needs and fully utilize every inch of every wall plate.



Keuntungan

S-Flexi is that right tool for you. Engineered to deliver the highest level of versatility in installation and combination of modules, S-Flexi is just another masterpiece by Schneider Electric demonstrating a perfect blend of the functional and aesthetic elements in electrical accessories for the contemporary homes. S-Flexi is easy to install due to the special design of grid plate,S-Flexi is also safe and durable because of high quality material.

Aplikasi

Residential, commercial applications. Flush- or surface-mounted installations.
S-Flexi also prepared for any kind of residential living and all non-residential applications like schools or gymnasium.