Maintaining a competitive edge relies on achieving tangible sustainability results
Based on a survey of 3,000 executives, almost 60% of companies have already integrated sustainability into their strategic planning. This means CEOs are taking a long-term approach to ensure a sustainable business not only to mitigate risk, but to take advantage of the potential to add value within their company.
An efficient sustainability strategy
Learn the six steps to breaking down the silos of efficiency and sustainability teams, and see a greater return on investment.
Download guide
Changing sustainability perceptions
See how optimising resource efficiency gave Blackstone a bottom-line approach to sustainability — and tens of millions in savings over six years.
Read the case study
"A business approach to sustainability supports continuous improvement as we move in and out of our investments."
— Don Anderson, Chief Sustainability Officer at Blackstone
We lead you to a sustainability strategy with tangible benefits
We work with you to understand sustainability risks and rewards, leading you to a strategy that delivers tangible benefits within your regulatory framework and optimises the technology available at your sites. Our global sustainability consulting experts will help you employ an active energy management approach by breaking down operational silos and finding a meeting ground for your sustainability strategy, energy efficiency projects and strategic sourcing.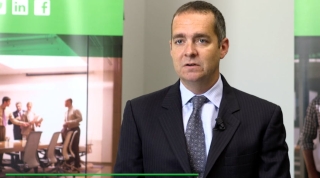 Making the world a cleaner place
Hear how Schneider Electric is helping customers around the world implement renewable strategies and making the world a cleaner place.
Achieve a sustainability strategy that benefits your customers
Your strategy will be backed by the ability to measure progress with comprehensive reporting on your results to further your ability to create market-leading solutions for your customers. With Schneider Electric as your sustainability strategy partner, your enterprise will be profitable and sustainable.
CASE STUDY

Sustainability roadmap helps achieve leadership recognition

See how Brown-Forman implemented a sustainability strategy and set goals with an actionable plan to achieve them.

CASE STUDY

Defining a glass manufacturer's carbon footprint

Discover how we helped a global glass manufacturer establish GHG emission baselines and sustainability reporting protocols to communicate their progress and achieve future goals.

ROADMAP

Answer the call for corporate transparency

Follow our roadmap as you develop your sustainability strategy to address the challenges along the way.
Achieve more energy and sustainability success
Get in touch for more information
Our energy and sustainability experts are ready to assist you in building a sustainability strategy today.
Chat
Do you have questions or need assistance? We're here to help!