Harmony

XVR
Ø 84 to 130 mm pre-wired rotating/flashing beacons
-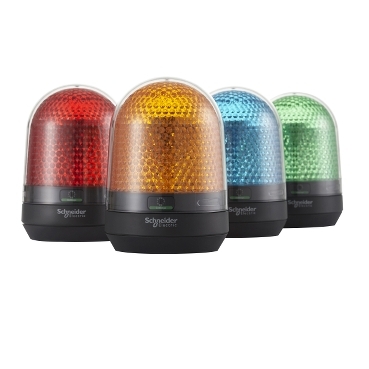 Features

Simplicity and speed of installation thanks to pre-cabled and pre-assembled products
Base mount: 3 x Ø 5 ou 3 x Ø 9
Source light : Super-bright LED
- guaranteed long life and maintenance free thanks to high resistance of LEDs to mechanical shock and vibration
- energy saving design with low power consumption
Up to IP 66
Colour of illuminated units: Red, Orange, Green, Blue
Supply Voltage : 12 V AC/DC or 24 V AC/DC (XVR13 : 12V DC…230 V AC )
Also available with buzzer
Standards and certifications: CE, UR, UL
Manufactured in conformity to the requirements of the RoHS (Restriction of Hazardous Substances) European Directive.
Accessories: reflecting prism, rubber base, brackets and fixing plates

XVR3 (ᴓ 100) New motor-less rotating/flashing beacons

2014 red-dot industrial design award winner for unique aesthetic design
Long life and free maintenance thanks to motor-less LED technology
Up to IP65 and high vibration resistance of 7.1G
Easy to use and simple to select thanks to 10 lighting modes in one-switch
Easy volume adjustment through external buzzer
Wide voltage input : 12V...24VDC, 48VDC, 100...VAC
Flexible wiring and mounting – straight and side, upright, sideways and inverted
Standards and certifications : CE

Benefits

Featuring numerous styles, diameters (Ø 84 to Ø 130 mm) and colours, this simple and efficient offer guarantees you distance-view information to improve your productivity. We can produce tailor made

Applications

Industrial vehicles, industrial processes, paper manufacture, buildings, etc.