MiCOM P14x
Feeder Overcurrent Protection Relays for complete Feeder Management in transmission & distribution
Overcurrent, Earth Fault and complete feeder power system protection, control and monitoring including advanced communication and integrated functions dedicated to feeders. Models available: MiCOM P141, MiCOM P142, MiCOM P143, MiCOM P145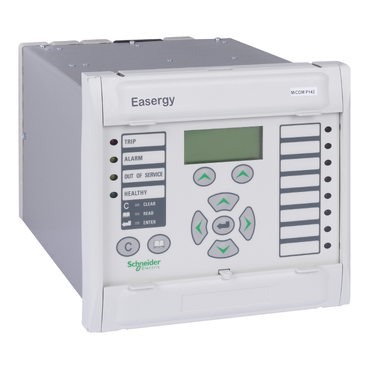 Features

MiCOM P14x Feeder Management and Overcurrent Protective Relays are especially suitable where a complete or advanced power system protection scheme solution is required. They include Overcurrent, Earth/Ground Fault and complete protection, advanced communication and integrated functions for feeders. MiCOM P14x protection relays also offer function keys for integral scheme control functionality.

The following models are available:

MiCOM P141 – Feeder management relay
MiCOM P142 – Feeder management with integrated Autoreclose
MiCOM P143 – Feeder management, integrated Autoreclose and Check Synchronism
MiCOM P145 – Feeder management, Autoreclose, Check Synchronism and Enhanced operator control functions

Housed in standard MiCOM 40TE, 60TE or 80TE, 4U case sizes, MiCOM relays offers a complete and scalable range of feeder protection, serial and Ethernet communications, including IEC61850 and a multi-language HMI featuring English, French, German, Spanish, Russian and Chinese.

Standard Manufacturers Warranty: 2 years

Benefits

Advanced Feeder Management

Extensive functionality to meet all feeder applications
Programmable Scheme Logic to allow easy customization
Comprehensive communication options including IEC 61850 and redundant Ethernet ports

Applications

MiCOM P14x Feeder Management protection relays provide an integrated solution for the complete protection, control and monitoring of overhead lines and underground cables in Electrical Transmission or Distribution Protective Systems
MiCOM P14x range is a suite for all applications where overcurrent protection is required. It is suitable for solidly earthed, impedance earthed, Petersen coil earthed and isolated systems.