IEC 61850 Standard
Interoperability for Advanced Protection and Control Applications
IEC 61850 is the new international standard for communication in substations. It enables integration of all protection, control, measurement and monitoring functions and additionally provides the means for high-speed substation protection applications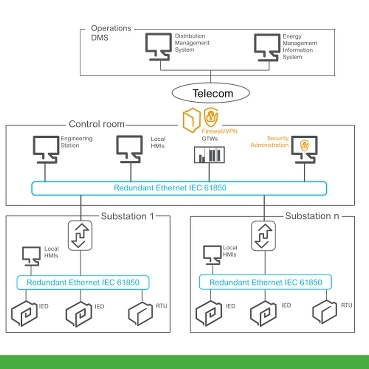 Features

IEC 61850 combines the convenience of Ethernet with the performance and security which is essential in substations today.

As a result of 10 years of active participation of several Schneider Electric experts in IEC and UCA working groups developing this new substation communication technology,and following successful interoperability demonstrations at CIGRE 2004 and many other events, Schneider Electric Automation has been busy adapting its Protection (MiCOM P range) and Control (MiCOM C range) devices to support this new international standard.

The protection relays integrate with the PACiS substation control systems over the IEC 61850 8-1 Substation Bus and at the same time can interface with our own or other vendors Merging Units over the IEC 61850 9-2 Process Bus, thus completing Schneider Electric Automation's offer of a full IEC 61850 solution for your substation.

Schneider Electric provides solutions that allow the migration from conventional or different legacy substation automation systems to IEC 61850 based SAS. Relays which have already been delivered with UCA2 on Ethernet can be easily upgraded to IEC 61850, while relays that support other communication protocols can be integrated using 'proxy' servers.



Benefits

Cost effective solution due to reduced inter-wiring
Flexible programming allowing relays and new protection functions to be added without affecting physical wiring
No external protocol converters are required and devices or systems can be easily upgraded to IEC 61850.