Power

Pact

Multistandard
Multistandard molded case circuit breakers from 15 to 600 A
Multistandard molded case circuit breakers from 15 to 600 A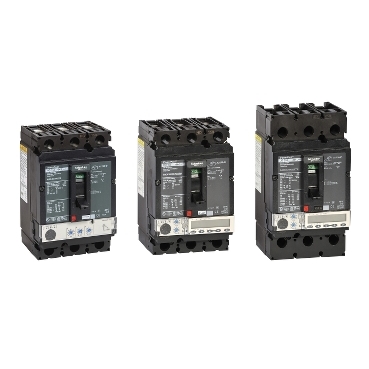 Features

LV circuit breakers for business without borders

Industry-leading multistandard-compliant circuit breakers boasting unrivalled reliability for heavy-duty applications.
Common catalogue numbers, standardized ratings and a full range of field-installable accessories make product selection, installation and maintenance easier than ever.

Features:

Rated current from 15 to 600 A
Breaking capacity from 18 to 65 kA at 480 Vac
3-pole versions
3 frame sizes: PowerPact H (15-150 A), PowerPact J (150-250 A) and PowerPact L (250-600)
Thermal-magnetic and electronic protection available for the entire range
Common accessories and auxiliaries with Compact NSX range
Suitable for isolation
Switch-disconnector versions also available
Compliance with IEC 60947-2 and UL 489
Certifications: UL, CSA, CCC

Benefits

Multistandard compliant: IEC, UL, CSA, CCC
Worldwide available with unique global part numbers
Flexible and simple offer, with proven performance
With direct access to energy metering and energy efficiency thanks to the Micrologic control units

Applications

Feeder protection and circuit disconnect solutions, when a multistandard approach for one global design machines is needed.

International & Global Multi-site OEMs applications
Regional OEMs exporting to USA, with production in different countries, and in need of local support/maintenance.