Hotel Room Controllers
Room control device manages multiple lighting circuits, curtains, DND/MUR, bedside panel, and tablet applications in hotel guest rooms
The Hotel Room Controller manages multiple lighting circuits, curtains, DND/MUR, bedside panel and tablet applications in the guest room. It aggregates data from all subsystems and devices in the room, and sends it to the GRMS and PMS. This gives hotel operators visibility and control of all rooms to drive energy efficiency, and to troubleshoot maintenance issues.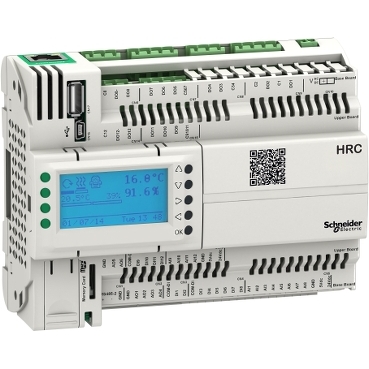 Features

The Hotel Room Controller (HRC) is at the heart of the Schneider Electric Full Service and Luxury Guest Room Management Solution. The HRC enables full lighting control, curtain control and bedside panel integration for Full Service and Luxury hotels. Combined with the SE8000 Series Room Controller and EcoStruxure, our solution provides temperature control, Guest Room Management System (GRMS) and integration with BMS, PMS and door lock.
Guests enjoy a customized, intuitive digital experience along with exceptional comfort and convenience, while hotel operators are able to manage individual rooms, or the entire network of rooms, to drive energy efficiency, monitor alarms and events, and perform proactive maintenance.
The HRC aggregates data from all the subsystems and devices in the room. This data is then served up to the Schneider Electric Guest Room Management System, which allows the operator to control and manage individual rooms or the entire network of rooms.



Benefits

Deliver exceptional guest satisfaction and ensure loyalty while optimizing energy and operational efficiency.
Enhance the guest experience by providing them with comfort, control, convenience and connectivity. Guests control curtains, lighting scenes, temperature, and entertainment systems from a bedside panel, tablet, or their own device.
Reduce energy by 25% - 44% through occupancy detection and temperature standby.
Gain control and visibility of room conditions: occupancy, energy use, temperature, humidity, maintenance needs, and status of HVAC, curtain, DND/MUR, door, and windows via integration of the HRC with the Schneider Electric Guest Room Management System and the hotel's Property Management System.
Enable proactive maintenance. Problems are identified early, avoiding emergency repairs, lowering costs, reducing guest complaints, improving staff efficiency, and minimizing disruption to guests. Proactive maintenance allows for improved operational efficiency, with more efficient and productive workflow and improved response times. Many problems can be fixed remotely.
Improve OpEx by indentifying when equipment is running inefficiently and wasting energy. This also extends equipment life, saving even more money.
Reduce CapEx with easy and rapid installation & commissioning. The HRC comes preloaded from the factory with the Hotel Guest Room specific application, providing simple configuration via a web page.
Meet brand standard requirements for guest room settings, management sequence, temperature setpoints, standby times, etc.
Increase asset value and differentiation with advance guest room functionality.

Applications

Full Service and Luxury Hotel hotels seeking to provide an exceptional guest experience with advanced guest room functionality, while improving operational efficiency and driving down energy consumption.