A 16,000 sq. office to demonstrate EcoStruxure solutions for power, buildings, machines and plant
Pune, 12 April 2019- Schneider Electric, the global specialist in energy management and automation, today announced the opening of its new office facility designed completely on an open office concept in Pune, Maharashtra. Schneider Electric is the preferred energy management partner for premium customers in the city and its surrounding suburbs. On the back of this expansion, the company aims to consolidate its leading position and revenues in the cultural capital of Maharashtra for its wide array of energy management products and solutions. This is an integrated facility of the company for all its business operations as well Design Engineering Center of ASCO Power Technologies, USA.

The new office facility will showcase Schneider Electric's superior products and solutions and also enhance the efficiency of employees to serve the customer quicker. Speaking on this occasion, Manish Khandelwal, Vice President, National Sales, Schneider Electric, India expressed his thoughts on the importance of inclusive, open and futuristic workplaces. He stated that the new facility of Pune will be one of the best campus of company in India and will set a new benchmark in office spaces.

Shrikar Paithankar, General Manager, Schneider Electric India, while welcoming guests said "This expansion expresses our understanding of the potential of the city and our to help the local businesses grow much faster through the enhanced customer experience. Being at a strategic and central location, it allows us to be more customer centric and accessible." The new facility, located at Amar Caliber, CTS No 911, BMCC Road, Deccan Gymkhana, Shivajinagar has been designed to demonstrate Schneider Electric's EcoStruxure solutions for power, buildings, machines & plant. The office also includes a knowledge sharing and training facility for the customers.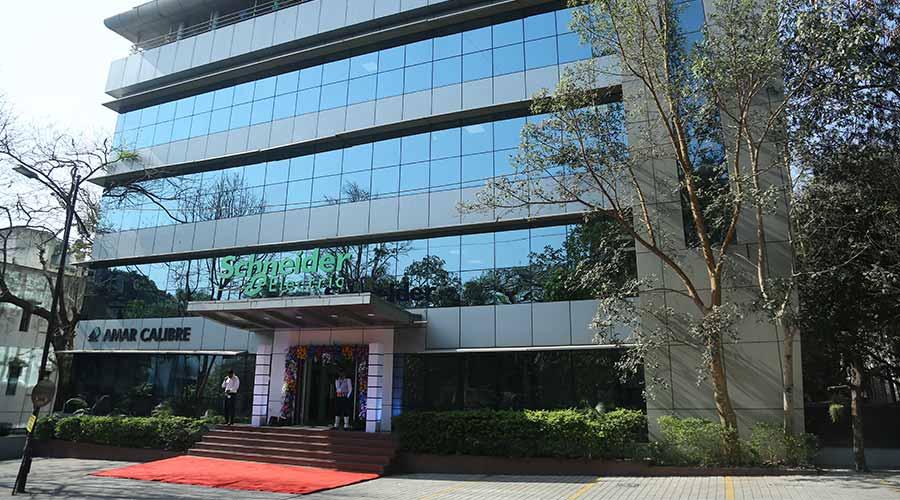 About Schneider Electric
Schneider Electric is leading the Digital Transformation of Energy Management and Automation in Homes, Buildings, Data Centers, Infrastructure and Industries.

With global presence in over 100 countries, Schneider is the undisputable leader in Power Management – Medium Voltage, Low Voltage and Secure Power, and in Automation Systems. We provide integrated efficiency solutions, combining energy, automation and software.

In our global Ecosystem, we collaborate with the largest Partner, Integrator and Developer Community on our Open Platform to deliver real-time control and operational efficiency.

We believe that great people and partners make Schneider a great company and that our commitment to Innovation, Diversity and Sustainability ensures that Life Is On everywhere, for everyone and at every moment.
www.schneider-electric.com