Home Automation
With the Internet of Things taking over the lives, automation has made lives simpler and homes smarter. Smart homes are the base to smart cities and a much secure lifestyle. It is a connected home technology that is designed to automate functions and grant you control over the property. Home control mechanism gives you the access to control the security of the house. It works on mobile application control which can be integrated with the security systems installed. You can set the schedule, and the rest is automated and based on your personal preferences thus providing convenience, control, money savings, and an overall smarter home. Home automation can also alert you to events that you might want to know about right-away while you are gone like water leaks and unexpected access to your home etc.Here are some of the reasons as to why you need to explore home automation and control to elevate your standard of life - 1) Convenience - Connecting all your devices through a common interface is a big step in the right direction for smart technology in homes. Control at your fingertips through a mobile application offers the benefits of remote control as well, allowing you to regulate you home from anywhere at any time. 2) Flexibility - Smart home systems tend to be remarkably flexible when it comes to the integration of new devices and appliances. These systems are scalable and dynamic in terms of performance and personalization. 3) Energy Efficiency - Smart home technology allows users to save energy and in turn lower costs. It minimises the risks of leaving lights or other appliances on when they are not required, and even studies user habits and patterns which can further help reduce energy wasted and expenses.
Professional & Architectural dimmers
High Range Dimmers. High range dimmers
View details
With the Internet of Things revamping our homes, automation has made lives simpler and homes smarter. Smart homes are the base for smart cities and a much smoother lifestyle. Connected home technology that is designed to automate functions and grant you seamless control at the tip of your fingers. Home control mechanism grants you access in terms of controlling the security of your house, lighting, air-conditioning, amongst so many other functions. Schneider Electric's KNX home automation innovations are a step in the right direction when it comes to innovation and smart technology in your home. Explore the diverse benefits of KNX systems to augment the basic functions of your day-to-day life.It is not a far-fetched statement to claim that up to three-fourths of a building's life cycle cost is operational. These operational costs which include different components such as communication, energy, access, and security costs that are independently controlled by different units. Multiple network designs are obsolete and cause an array of different problems for 21th-century technology, due to expenditure incurred on operational costs, intricate and thus expensive technical requirements, and inefficient energy consumption. This is where the performance of systems like KNX are key. This technology has been designed by Schneider Electric India keeping in mind the benefits of enhanced comfort, reduction of operational costs, and energy consumption.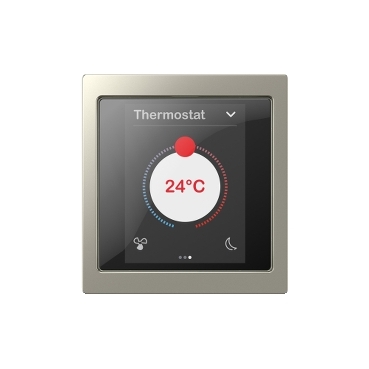 KNX system
Commercial lighting control. Based on the standard protocol KNX, Schneider Electric provides home automation and tertiary buildings management solutions designed to maximize flexibility, comfort, safety and profitability, especially for new buildings.
View Products