Micrologic
Control units for Compact NS 630b to 3200 and Masterpact NT - NW
Part of Pact Series
Control units for Compact NS 630b to 3200 and Masterpact NT - NW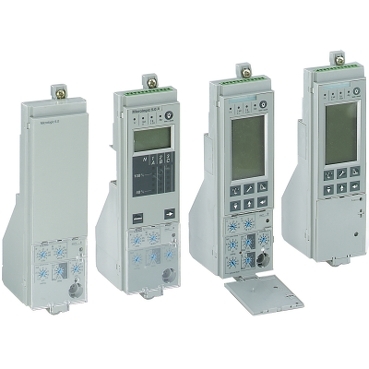 Features

4 levels of protection against overloads and short-circuits

Built-in earth leakage protection

3 types of measurement:A (Ammeter), P (Power) and H (Harmonics)

Advanced alarms and protection

High degree of measurement accuracy

Operating dependability:separation of control unit functions

DMB300 and DMC 300 display units for instantaneous and intuitive information access

Compatible with the Ethernet MPS100 server for remote access to information on the electrical installation

Connection to an open-ended communication system, compatible with PowerLogic, a network management system

Comprehensive range of measurement, communication and maintenance accessories

Benefits

The shortest path from one point to another Associated with the new communication modes, the Micrologic control units are a genuine shortcut in distances separating the user from the installation. Their ability to stock information and to memorise events thus ensures increased productivity in terms of energy distribution management.

Applications

Protection, measurement, monitoring and quality of energy for all types of LV electrical network: Micrologic control units incorporate 150 high accuracy settings and measurements to optimise continuity of supply and energy management.