Lexium 05 & Motors
Servo drives and servo motors for machines from 0.4 to 6 kW
The High Concentrate Solutions for your machines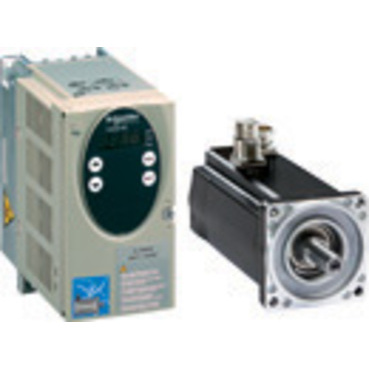 Features

Lexium 05 servo drives

Power range from 0.4 to 6 kW
Voltage range from 115 V to 480 V

BSH servo motors

Nominal torque of 0.5 to 36 Nm
Nominal speed of 1500 to 8000 min –1
Low inertia

A new "additive free" approach

ECM filter, "Power Removal" safety function, SinCos Hiperface encoder, connection to CANopen, Modbus, Profibus DP networks, connection to all analogic controllers

The ultimate simplicity

Simply Start Menu, Automatic Motor identification & Auto Tuning Functions.

Benefits

With this new generation of motors and drives, you have the benefit of powerful solutions to design and optimize machines - the perfect answer to your technical and economic challenges. By combining the essential motion control functions with control and command interfaces, Lexium 05 meets your requirements for the simplest, most reliable and most cost-effective machines.

Applications

1. Material Handling,
2. Printing & Packaging Applications,
3. Winding & Unwinding,
4. Small Machine Tools & Testing Machines,
5. Automated Conveyors.