KNX system
Commercial lighting control
Based on the standard protocol KNX, Schneider Electric provides home automation and tertiary buildings management solutions designed to maximize flexibility, comfort, safety and profitability, especially for new buildings.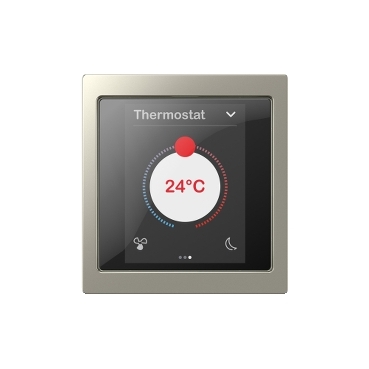 Features

With Conventional electrical installations, you have to determine in advance how and where your buildings switching system will be installed, before construction even commences. But with KNX from Merten, you can keep options open. That's because everything in the system can be changed or extended at any time without the usual mess and without laying new cables.

In addition, all building technology devices and installations are connected via a single bus line.
The bus line is laid in parallel to the 230 vac power supply. When you activate a sensor for eg a push button, an actuator will carry out all the switching commands required.

KNX is the only worldwide approved INTERNATIONAL STANDARD for home- and building control. It already met the requirements of both European standards CENELEC EN50090 as well as CEN EN 13321-1. Its recent approval as an international standard (ISO/IEC 14543-3) now confirms the global importance of the KNX standard.

As KNX provides specifications that are not only used for the automation of electrical installation equipment but also a. o. for HVAC applications, KNX Association proposed its specifications also to CEN for publication as a European standard for building automation control systems. CEN TC 247 accepted the proposal and the KNX specifications were published by CEN as EN 13321-1.

In Building Automation System, there are many factors to be taken into account like Flexibility, Comfort, Cost efficiency, safety and security. In terms of comfort, take the following example: getting cosy in the evening no longer means going from one switch or thermostat to the next. Instead, simply press a single button to activate all the desired functions in one go., blinds are lowered, atmosphere lighting is switched on and the room is heated to just the right temperature. Scenes such as these can be created exactly as you want them and you can do so via remote control, PDA, Touchscreen or PC.

Benefits

Commercial lighting control

Automatic Lighiting control:

Time dependent,automatic switching off of light sources during work breaks or on weekends
Daylight dependent adaption of the lighting for optimum working conditions through light control. With intelligent heating/cooling controls,energy costs can be reduced by up to 30%.
Automatiic lighting of corridors, staircase by using motion sensors.

Individual heating/cooling control.

Presence dependent room heating/cooling.
Immediate closure of heating/cooling valve when window is opened.
cooling is supplied automatically at the exact time required and individually via controllable room temperature control units.

Intelligent Blind Control.

Automatic control of the sun awnings via light sensors in accordance with the current sunlight intensity.
Automatic blind retraction via wind sensors during strong wind.
Automatic adjustment of the blind slats in accordance with the current sunlight intensity.

Flexible building management:

Flexible adaption of the building functions when rooms are used for different purposes eg after reorganization or a move.
Worldwide access to the entire building technology system via PDA, PC or Touch screen.
Monitoring of windows and doors or underground car parks by sensors that signal irregularities.
Display of loads, performance curves and temperatures, immediate notification in the case of critical temperature overshoots and automatic shutdown of devices at risk.
Display of fault signals and automatic forwarding of these signals to the responsible electrician or the building manager.
Costly peak load avoided since loads can be switched on and off in a systematic fashion.

Applications

Merten system can be used in application like infrastructure projects Airports, Stadium and large building wherein we require lighting controls, scheduling, HVAC controls, security system.