Enerpact NH
800 to 3200 A high current air circuit-breaker
End of commercialisation
Air Circuit Breakers from 800A-3200A with Thermal-magnetic & Static Protection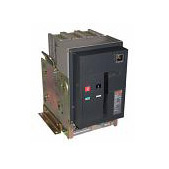 Features

Ratings from 800A to 3200A- 3P & 4P

Breaking Capacities from 50kA to 80kA RM

660V AC operational voltage

Fixed & Draw-out versions

Manual & Electrical operated versions

7 ratings/ 3 frame sizes

Common height & depth for all ratings

Complies with IEC60947-1& 2/ IS13947-1&2

Certified for operation in pollution degree III environments

Complies to Tropicalisation Standard level 2 Conditions ( Damp& dry heat, Salt spray, etc as per IEC 68)

Thermal-magnetic & static protection units

Offers positive isolation in all versions of ACBs.

Wide range modular accessories, common for complete range

Benefits

Technology Meets Reliability

NH series of 'Enerpact' ACB designed for Indian Conditions offers reliability, safety, easy fault identification and ease of installation and maintenance all at one go. In short 'Enerpact' offers dependability, safety & ease-of-use, just the right combination of qualities for a world class Air Circuit Breaker. No wonder the best way to describe it is 'Energy at your control'.

Applications

'Enerpact' ACBs are designed for protection & control of LV Electrical distribution systems with wide range of applications and used as incoming or secondary outgoing of an electrical network.