Minder Pro
Security management
-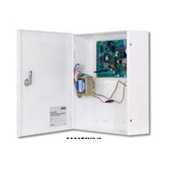 Features

The 5302CU series of Premise Automation Controllers are intelligent units for management of residential and commercial buildings with applications in energy efficiency, security, lighting control and event scheduling.
The controller features a powerful processor and is suited at applications where specific reactions are required to particular events. The unit is simple to install, program and use, and features a voice prompt menu that navigates the user through the various menus and options. The user can control any device connected to the controller, via the local keypad or any dial tone phone.
The premise controller features an 8-zone security system, which may be expanded to 64 zones. The controller features a telephone dialler and supports central monitoring to a base station. The telephone dialler and voice engine also permits a handy duplex intercom station, between keypads and between keypads and a phone.
Scheduling of events and time management control of devices is facilitated by the on board real time clock. Several time programs can run simultaneously on the controller.
The controller can be interfaced to third party systems such as the C-Bus control system realising an integrated lighting control solution. In addition, the premise controller supports EZinstall and the X-10 power line standard.

The Clipsal MinderPRO premise automation controller is specifically designed for residential and small commercial automation applications. With the addition of the Clipsal PremiseGateway™, the controller can be web-enabled realizing control of devices over the Internet, via a secure encrypted connection.

Benefits

Security management

8 inputs and 8 outputs zones, expandable to 64 inputs and
64 outputs.
365 days real time clock for time scheduling and event
management.
Supports the C-Bus, EzInstall
Internet enabled via Wiser Home Automation
Programmable from the keypad or by personal computer.
Supports central monitoring station formats.
Voice prompt menu and supports any language.
User programmable voice library.
Intercom functions between keypads and phones.
Battery backup for uninterrupted operation.
Infrared engine for the control of audiovisual and air-conditioner
Appliances.
16 unique users, supported.
8 voice mailboxes, supported.
Sturdy metal enclosure.
C -Bus Enabled, with factory certification.
CE and A-Tick compliant.

Applications

MinderPro is not only used for security purpose but also for home automation in Apts/Bunglows. The system can also be connected with Ulti and Cbus system to provide complete integrated home automation solution.