Acti

9

Vigi NG125
Residual current add-on device up to 125 A for NG125
Easy to install, the residual current add-on device can be quickly connected to Acti 9 NG125 circuit breakers with minimum fuss.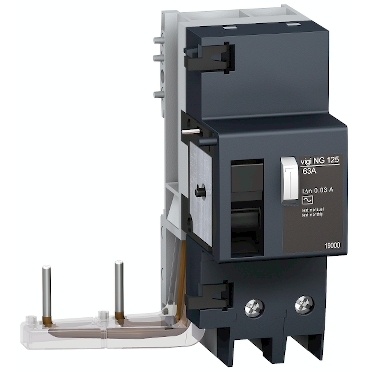 Features

Electrically and mechanically combined to NG125 circuit-breakers
30mA sensitivity: additional protection against direct contact (in accordance with IEC 364)
100, 300, 500, 1000, 3000mA sensitivities: additional protection against fire and indirect contact (in accordance with IEC 364)
Type "si": protection of sensitive circuits (computing equipment) and those prone to disturbances (ballast lighting, power electronics)
Selective version S or R : tripping of the device the closest to the fault
Adjustable version: choice of sensitivity and tripping time by switches
Compliance with standards for the NG125 + Vigi NG125 module combination: IEC EN 61009 certified by national official authorities, IEC 60947-2
The NG125 circuit-breaker keeps the same characteristics when combined with a Vigi NG125 module

Benefits

Designed specifically to work with Acti 9 NG125 circuit breakers, the residual current add-on device is not only easy to install, but provides you with much needed additional protection.
Simplicity
The simplicity of combining Vigi NG125 modules with Acti 9 NG125 circuit breakers makes them easy to install.
Security
"SI" (Super Immune) type Vigi NG125 modules are completely immune to disturbances.

Applications

Ideal for installation in all industrial and commercial buildings,

residual current add-on

devices provide protection against:

electrocution (in compliance with IEC 60364 installation standards and national standards).
fire hazards caused by leakage currents flowing into building materials.