Multi

9
Wide range of Miniature Circuit Breakers for Original Equipment Manufacturers (OEMs) and control panel builders
Multi 9 has been designed to offer enhanced protection by preventing and protecting people and equipment from electrical threats such as short circuits, earth leakages, overloads and more.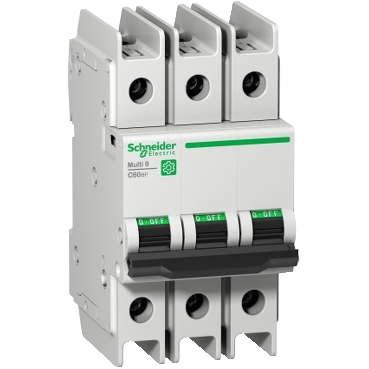 Features

Rating current: 0.5 to 63 A
Breaking capacities: 5 ou 10 kA depending on the supply network type
Tripping curves: B, C or D
Compliance with standards: UL 489, UL 489A, UL 1077, CSA 22.2 no. 5.1, CSA 22.2 no. 235-M89, IEC 60947-2
Current limitation effect
Multiple possibilities of connecting: box lug, ring tongue terminal...
Optional auxiliaries: indication of state and tripping, shunt trip, undervoltage trip

Miniature circuit breakers

UL + IEC/EN 60947-2 + other standards

C60BP – branch protection

C60BPR - branch protection dedicated to ring terminal

C60SP – supplementary protection

C60H-DC - supplementary protection dedicated to direct current

IEC/EN 60947-2

C60N, C60H and C60L (10 to 25 kA breaking capacity)

C60CTRL to protect control circuit

N40N – 18mm phase and neutral MCB

Residual current devices - Ground fault protection

UL1053 + EN/IEC 61008

GFP - ground Fault Protector UL 1053

Residual current circuit breaker and Add-on residual current devices

RCCB ID - residual current circuit breaker

RCCB ID (B type) - residual current circuit breaker with direct current detection

Vigi C60 – residual current device add-on for C60

Vigi N40 – residual current device add-on for N40N

N40 Vigi - residual current circuit breaker with overcurrent protection

Accessories and auxiliaries

Multi 9 auxiliaries

Multi 9 accessories

Comb busbars

Linergy DS Screw distribution blocks

Benefits

Multi 9 provides OEMs and Control Panel Builders with simplicity and options. You can use it to adapt installations to any configuration, any time.

Choose from a wide selection of field-installable accessories to adapt your installation to any configuration.
Fits in with existing Schneider Electric installations quickly and simply.
Build your panel with the help of a global specialist in automation and energy management.
Cost effective and with a small footprint, it allows you to optimize your control panel.
Save money by protecting against potentially costly threats.

Applications

Designed for OEMs and control panel builders who can use Multi 9 in plenty of segments including packaging, telecoms and much more.

Suitable for HVAC, crane and hoisting and pumping.
Ideal for the semiconductor industry.
For use in the packaging, conveying and telecom industries.