INDUSTRIAL TRANSFORMATION ASIA-PACIFIC, A HANNOVER MESSE EVENT 2019
Thank you for visiting and experiencing our 7 digital enablers in action at our smart factory booth at ITAP!
If you missed us, here are some event highlights!
What was at our booth: 7 Digital Enablers
Visitors experienced Schneider Electric's Smart Factory and discovered how we make use of the 7 Digital Enablers to deploy smart manufacturing technologies for Industry 4.0.
Throughout the 3 days at ITAP, we ran guided tours of our Smart Factory where visitors found out how:
Plant Design
Safety & Compliance
Energy Performance & Sustainability
Business Continuity & Cybersecurity
Smart Operations
Smart Maintenance
Empowered Users
come together as building blocks of a future-ready organisation.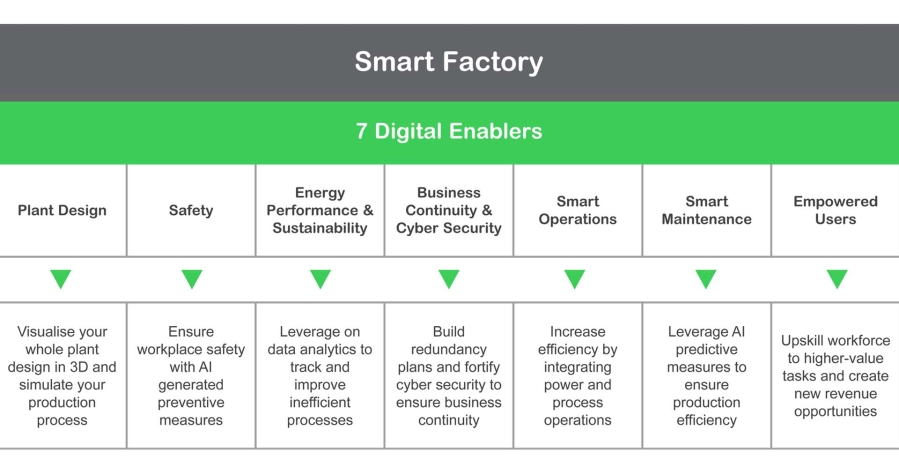 Guided Tour of Schneider Electric's Smart Factory & live streaming of Batam Smart Factory
Visitors experienced an immersive journey across seven key pillars of a future-ready Smart Factory. Through virtual reality simulations and interactive panels, each of the seven zones showcased the benefits of deploying smart manufacturing technologies. There were live and telecasted guided tours of our Smart Factory in Batam, which is recognized by World Economic Forum as a Fourth Industrial Revolution Lighthouse.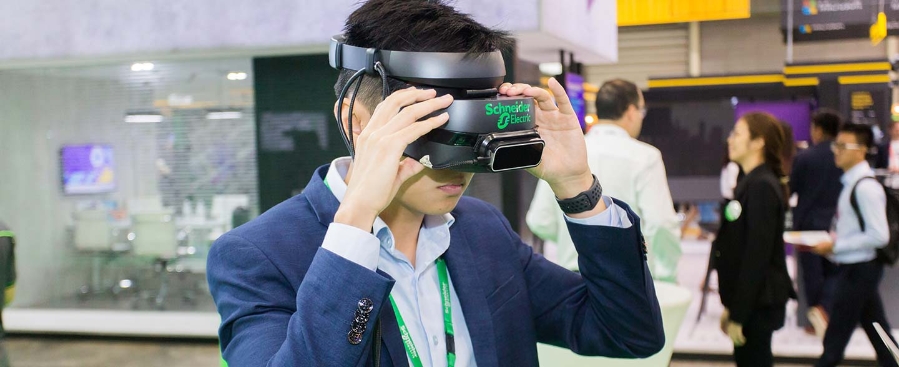 This year, we have taken "being smart" up a notch.
Sign up for a guided tour at our Innovation Hub and discover how we make use of the 7 Digital Enablers to deploy smart manufacturing technologies for Industry 4.0.
Sign up for Innovation tour
Thank you for being part of the Industrial 4.0 learning journey!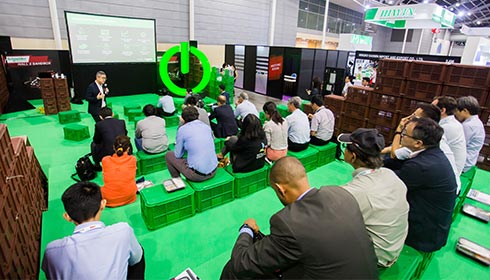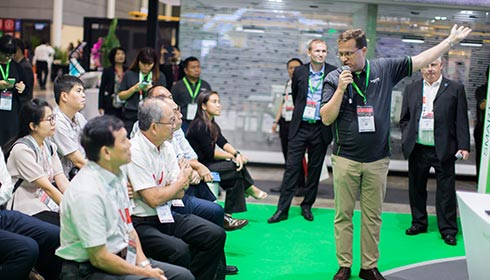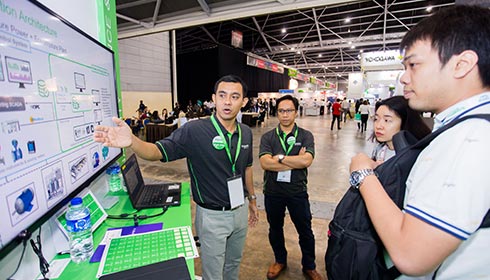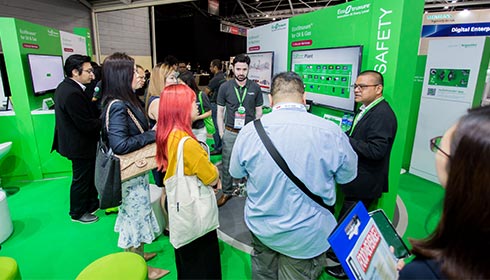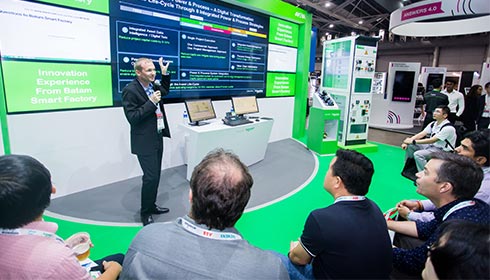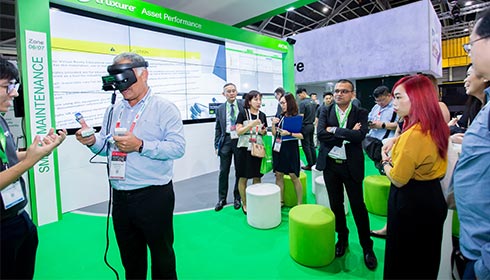 Join our Talks and Discussions
Our Panel Speakers for : SME IIoT Automation
We thank our panel speakers for the SME IIoT Automation sandbox session, which was jointed organised by Schneider Electric and iSAMS, a consortium of smart manufacturing solutions providers for the precision engineering sector.
Joseph Wong, Project Manager - Smart Manufacturing Transformation at Fong's Engineering & Manufacturing Pte Ltd
Mr Joseph Wong lead the Smart Factory Transformation Initiative in Fong's Engineering & Manufacturing. He played a pivotal roles in spearheading the overall planning & execution of the transformation project from conceptual stages, to actual control and execution of projects implementation.
At the same time, Joseph also led the up-skilling and deep-skilling efforts in contextualizing the Learning and Development of Workforce 4.0 to equip all employees within the organization to learn, adapt and grow in parallel to the infrastructure transformation.
Mr. Poh Leng Yee, VP Digitalisation at iPlast 4.0
Mr. Poh Leng Yee is the Vice President of Digitalisation at iPlast 4.0. He currently works in researching innovative technologies and training solutions that will prepare the plastics industry for the next wave of digitalised smart manufacturing.

Previously, Leng Yee co-founded a start-up providing cloud marketplaces for the global plastics industry. He successfully Introduced automation to every aspect of the manufacturing operations, resulting in significant business growth and improved efficiencies.
Mr. Kannappan, Manager at Nanyang Polytechnic
Mr. Kannappan, is a robotics expert with over 20 years of working experience and has trained students in robotics, automation, sensors and controls. He currently works with companies to provide customized continuing education courses at the School of Engineering in Nanyang Polytechnic.
Mr. Gerry Ong, Director at SMT Technology Pte Ltd
Gerry Ong graduated from Singapore Polytechnic and Shanghai Jiao Tong university MBA, specialized in the area of Smart advance manufacturing for precision industries and metrology. With the knowledge and experience in the development of smart and flexible manufacturing systems and manufacturing data analysis. He is currently leading a team of engineers in Singapore to provide i4.0 smart system integration and factory transformation for precision industries.
Mr. Anthony Loy, Smart Factory Programme Leader at Schneider Electric
Anthony joined Schneider Electric in 2013 with a background in the Automotive Industry and Management Consulting. With 10+ years experience in lean manufacturing, operations transformation and management, he engaged with passion in digital transformation. He leads since 2017 Schneider Electric Smart Factory program, a value driven transformation of Schneider Electric factories across five geographies, leveraging a full blend of IIoT and Industry 4.0 solutions.
Mr. Urvil Modi, Business Vice-President (Industry) at Schneider Electric Singapore
Driven by his passion for business and a firm belief in infinite potential of people, Urvil has had a fulfilling journey across diverse industries in manufacturing sector. Over last sixteen years, he has built and grown businesses with P&L ownership (a startup as well as within corporations), advised conglomerates on growth strategies and developed & implemented strategic plans within corporations. In his current assignment at Schneider Electric, Urvil is responsible for Industry Automation P&L for Singapore and Malaysia. In his previous roles at Schneider Electric, Urvil has been responsible for complete portfolio of products and solutions for Food & Beverages segment in India & SAARC, has managed End User sales team and strategy function for Industry Automation in India. Prior to Schneider Electric, Urvil helped build boutique advisory start up, Boston Analytics, which he joined as the first employee and eventually as a CEO, led it to successful exit in seven years. He worked on corporate strategic planning and M&A at Vedanta Resources Plc , infrastructure projects at Larsen & Toubro and B2B product marketing at Foseco India. Urvil received his engineering degree from National Institute of Technology (NIT) Durgapur and PGDM (MBA) from the Indian Institute of Management (IIM) Indore.
Get A Customised Blueprint of your Smart Factory Readiness
Assessing your Smart Factory Readiness is the first step to take in your digital transformation journey. Find out how "smart" your factory really is and the next steps taken by other plants in the same benchmark or category.

Simply take an assessment (less than 2 min) to receive a customised blueprint of your Smart Factory Readiness.

The customised blueprint includes:
● Identify which stage of the automation journey you are at
● Understand the key defining characteristics of your current stage of automation
● Discover the main challenges of moving on to the next stage of automation
● Get detailed recommendations on your next course of action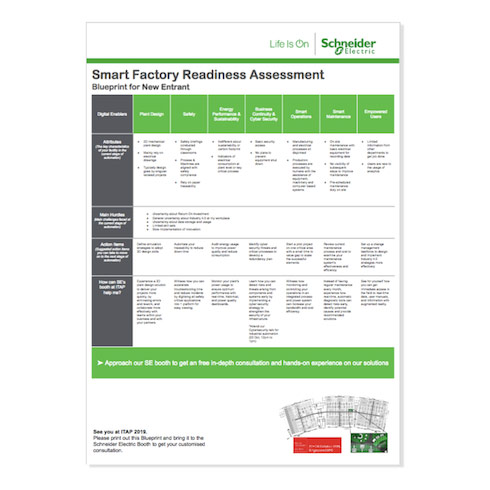 Sign up for a guided tour at our Innovation Hub. With the results of your assessment, discover how we make use of the 7 Digital Enablers to deploy smart manufacturing technologies for Industry 4.0.
Join the Schneider Electric Exchange community of experts in ITAP
Connect
Join a community of experts and service providers to get support and build business relationships.
Create
Create new, innovative solutions using a vast library of tools and resources.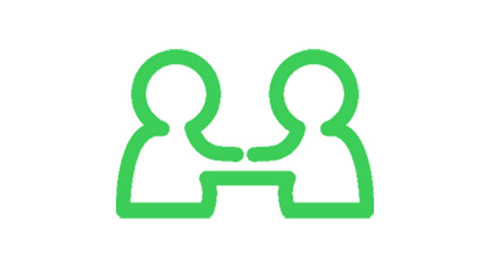 Collaborate
Work with experts and partners to solve tech problems faster and grow your business.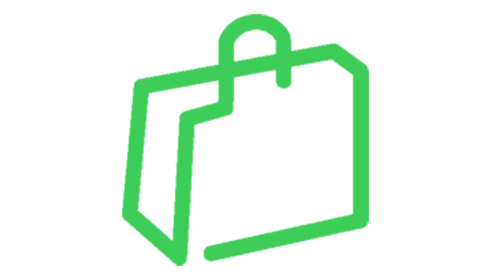 Scale
Explore a growing library of analytics, e-CAD tools, reference designs and plug-ins.

Schneider Electric Exchange ecosystem - check out how to be part of this community in ITAP
Our partners enhance Schneider Electric Exchange functionality with their expertise. Because no one innovates alone, solving market challenges for energy management and automation is more efficient and effortless when you have powerful and resourceful partners on your side.
Chat
Do you have questions or need assistance? We're here to help!