ARGUS - Smoke detectors
The new generation
End of Commercialisation
With the new Argus Smoke Detectors, Schneider Electric provides what you need when things start getting hot: brand quality that customers can rely on 100% if the worst case becomes reality.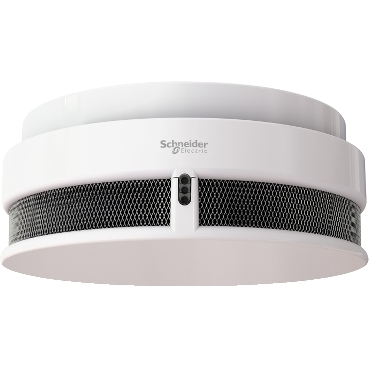 Features




Argus smoke detectors are available in the following colours and versions:

MTN5470-2119: Single, polar white
MTN5471-2119: Basic, polar white
MTN5472-2119: Duo, polar white
MTN5480-1119: RF Duo, polar white
MTN5480-1160: RF Duo, aluminium

Accessory

MTN5493-3190: System relay
MTN547000: Sealing pin




Common features:

Cable and radio networking is possible
Loud, pulsating warning sound (85 dB(A))
Automatic self check (1 x per minute)
Acoustic and visual malfunction/low battery display
Fixed built-in lithium battery for at least 10 years of battery lifetime
Double protection
Pollution compensation
Alarm memory
Hush function





Benefits

Because who you have is worth protecting

Nothing should be left to chance when it comes to safety. This is especially true for the risk of fire in flats and homes. Because breathing smoke in and out just three times can be fatal. At night the risk of smoke poisoning is greater, since the human sense of smell does not function when sleeping.

With the latest generation of proven Argus smoke detectors, Schneider Electric provides the most important factor for safety in combustible situations: uncompromising brand quality that customers can rely on 100% if the worst case becomes reality.

All Argus smoke detectors are Q-label certified, in addition to EN 14604, for safety, comfort, increased
quality and reliability
Argus smoke detectors operate in accordance to the scattered light principle
Extremely low power consumption
100% final check at the production line
High-quality material and surfaces
Ceiling and wall installation





Applications

Schneider Electric provides a suitable solution for every individual home situation. Whether for :

Classic apartments/flats
Existing single-family homes
New homes in the planning stage




The new Argus smoke detectors are operated by battery and according to the different versions they can be

networked from your cellar to the top floor via cable or radio for maximum safety.