Altivar 1000
Drives medium voltage from 0.5 to 10 MW
End of Commercialisation
Medium voltage Variable Speed Drives from 0.5 to 10 MW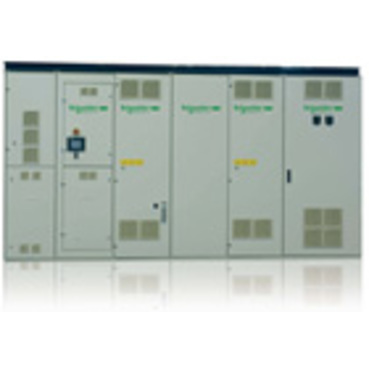 Features

Medium voltage variable speed drive for AC motor
Output voltage range: 2300 V - 3300 V (4160 V - 6600 V as an option)
Power range: 0.5 - 10 MW
Frequency range: 0 - 60 Hz as standard (140 Hz as an option)
Incoming supply: Any type of medium voltage line supply
Cooling: Air and water, with redundancy of cooling system (fan or pump)
Technology: Voltage source inverter
Input stage: 12/24 pulse input rectifier
Output stage: Neutral point clamped (NPC) 3-level voltage source inverter, with high-voltage IGBT
Electrical braking solutions: Regenerative braking via active rectifier or braking by chopper and resistor
Compatibility with new and existing motors
Efficiency: Approximately 99%
Built-in reduction of harmonics (12/24-pulse rectifier or filters)
Conforming to IEC standards as standard. Other standards as an option (NEMA, ANSI, IEEE, etc.)
Design with built-in or separate input transformer
Offer including the drive and motor (if required)
Easy adaptation to the application by means of the PLC function
Open to the main control system networks: Ethernet, PROFIBUS, Modbus, CANopen
Control of asynchronous motor as standard; synchronous motor as an option
Easy front access to enclosures
High protection rating: up to IP 41 (air-cooled) and IP 54 (water-cooled)
Option of diagnostics using real-time access to the signature of the device main values
Motor control for all applications: U/f control; flux vector control with or without sensor; velocity, torque or position control; master-slave function, etc
Continuity of use and safety functions: Full protection system for the transformer-motor-drive-auxiliaries assembly, suppression of critical speeds, etc. Auto-tuning functions for quick startup
Speed accuracy in steady state: 0.05% without sensor and 0.05% with sensor
Torque response time < 5 ms.

Benefits

Concentrated savings for your applications




Range of medium voltage variable speed drives from 0.5 to 10 MW.
One of the most compact (up to 1.5 MW per metre of enclosure) and with one of the best efficiency levels on the market (~99%), Altivar 1000 is the latest addition to Schneider Electric's medium voltage offer. It is easily integrated in a control system architecture and guarantees you:

Reduction in energy costs (up to 40%)
Protection of motors and equipment
Increased competitiveness
Reduction in maintenance costs.

Applications

Energy: Fans, pumps, turbine starters
Oil and gas: Pumps, compressors, air blowers, extruders
Mines & Minerals: Conveyors, crushers, fans, pumps
Water treatment: Pumps, air blowers.