Mini Pragma
Modular Electrical Enclosure
Plastic Modular Electrical Enclosure Mini Pragma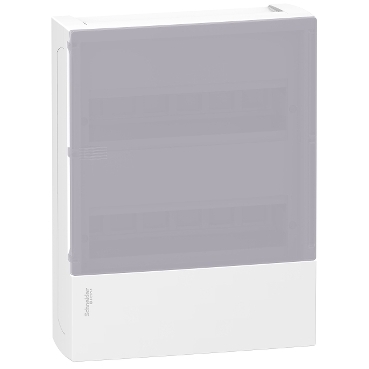 Features

Plastic modular electrical enclosure flush-mounted or surface-mounted


Plastic modular electrical enclosure range, surface-mounted or flush-mounted, 50 to 63 A:

From 1 to 3 rows
From 4 to 36 modules
Translucent tinted or white door

.

Options


Flush-mounted: 5 colours (white, ivory, mist grey, pistachio, garnet)
With or without terminal blocks
Lighting indicator function
Lock.

Benefits

The electrical enclosure you can exhibit


An aesthetic enclosure which harmoniously fits its living environment and is consistent with wiring devices
An enclosure built to make the work easier for the electrical contractor
A complete electrical solution for the residential sector.

Applications

Residential sector, hotel bedrooms, small businesses:

Mini Pragma, the heart of the electrical installation to receive protection and control devices consistent with wiring devices.