Motor starters and contactors
Charging stations for home or private properties (indoors or outdoors)
With TeSys™ offers, protect and control direct on-line or reversing motor starters.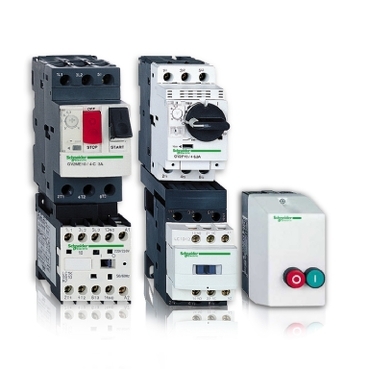 Features

Caution: the presentation just hereafter is showing you a selection of the more popular products:

AC,DC, low-consumption DC control circuit.
All types of starter: reversing or non-reversing, star/delta, by auto-transformer, etc.
Connectors: spring terminal, EverLink terminal block, screw clamp, ring-type connection, Faston connector.
Easy and simple direct mounting beetween contactor and circuit breaker, according to EverLink terminal block (from 40 to 65 A).

Benefits

Add products to the basket and get:

Your Bill of Materials (BOM list) in a CSV format (excel compatible) or an illustrated pdf file.
A complete collection of the product data sheets assembled in pdf format for your technical files.

Applications

Machine manufacturers (all segments) and control system panel builders.