An array of lithium-ion options to power your total UPS Solution
Schneider Electric offers Lithium-ion battery options for Galaxy VX, Galaxy VM, Galaxy VS, Symmetra PX 250/500, Galaxy 7000, Symmetra MW & the APC Smart-UPS™ (single-phase) UPS, with broad availability for more UPS product lines in the near future.
Benefits of Lithium-ion vs. Lead-acid batteries
50-75% less
footprint. Reduce the secure power footprint so revenue-generating equipment can take its place.
30-50% lower
total cost of ownership (TCO). This includes lower cooling costs, upfront capital cost and other operating expenses.
2-3X longer
expected life. Reduces the burden and cost of battery replacements, risks of downtime or load interruption during maintenance.
60-70% lighter
weight. Provides flexibility to install on any floor while minimizing structural modification requirements.
5X faster
recharge. Full recharge in less than 2 hours.
wider
temperature range. Can operate at higher temperatures while outlasting VRLA.
Lithium-ion vs. VRLA UPS Battery TCO Calculator

Select energy storage for your 3-phase UPS solution. Use the TradeOff Tool calculator to better understand the impact of choosing Lithium-ion.
Find the right lithium-ion-compatible UPS for your business: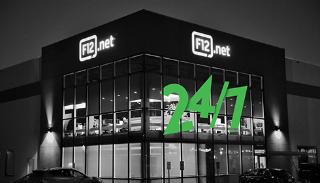 F12.net empowers customer trust by keeping data safe, secure and always available
Schneider Electric Canada delivers powerful solutions including EcoStruxure for Data Centers and revolutionary lithium-ion battery.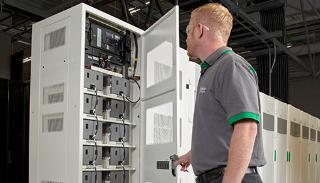 Lithium-ion and the data center
Working together with Data center organizations like CoreSite to ensure that safety is built into every level.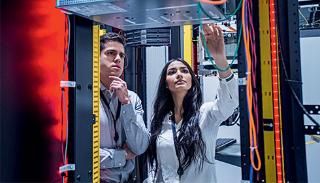 Lithium-ion batteries for 3-Phase UPS
The Schneider Electric Lithium-ion Battery Solution for three-phase UPSs is a high-value, innovative energy storage protection solution for data centers, industrial processes, or critical infrastructure.
4 benefits of Lithium-ion
Lithium-ion batteries offer big benefits for UPS systems
Lithium-ion battery passive safety features
Lithium-ion batteries have a number of passive safety features built into the battery packs. This video details how these elements make lithium-ion power storage a safe option.
Lithium-ion battery active safety features
Explore the active safety features of the lithium-ion battery packs for 3-phase power storage.
APC Smart-UPS™ On-Line Lithium-ion 230V | APC by Schneider Electric
APC Smart-UPS On-Line. High-density, double-conversion, online power protection. Battery backups with lithium-ion are 1/3rd lighter and have 2x the lifecycle of lead-acid VRLA Batteries.
APC Smart-UPS™ Online Lithium-ion
The Smart-UPS you trust now offers 2x the battery life saving you up to 58% on TCO.
Chat
Do you have questions or need assistance? We're here to help!