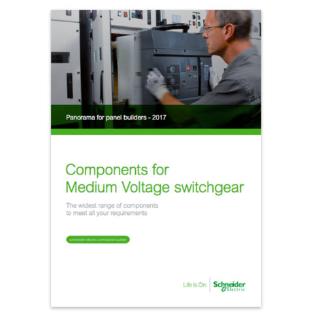 Components for MV switchgear
An overview of all medium and low-voltage components you need to build your switchgear.
Download the brochure
Medium Voltage technical guide
Helping you design safe and energy-efficient MV products according to IEC standards. The new edition is now available!
Download the guide
Modern ways to save time

Panel builders need to be more flexible and productive to match the demands of the future. Discover how to save time at every step of the process when ordering medium-voltage equipment.
Medium-voltage components
A selection of best-in-class medium-voltage components for all applications:
• MV circuit breakers
• MV contactors
• MV switches and disconnectors
• MV fuses
Protection and control components
Meet your needs with an exhaustive selection of components adapted to medium-voltage applications:
• Protection relays
• Arc-fault detectors
• Instrument transformers
• Energy management and control
• LV protection
• Direct current power supply
• LV relays
• LV control and signaling
Feeder automation
Move to smart medium-voltage networks with a full range of feeder automation devices.
• Remote control and monitoring
• Fault passage indicators
• Substation power supply
Chat
Do you have questions or need assistance? We're here to help!