Advantys OTB
Designed for simple and compact machines, the Advantys OTB solution is a P20 distributed I/O system - Remote IO
Distributed I/O & PLC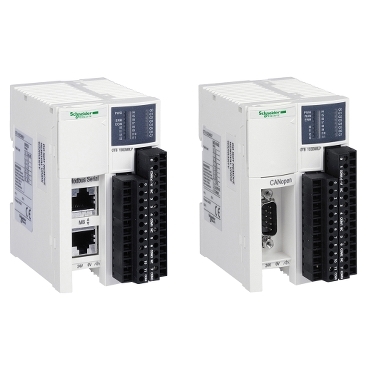 Features

3 communication base modules: CANopen, Modbus and Ethernet, each with 20I/O directly integrated
a wide range of I/O expansions that are comun to

Twido programmable controllers for minimising the number of references: 1 base module can be fitted with up to 7 discrete I/O (up to 132 I/O) or analogue (up to 48 channels) expansion modules

ideal compactness: 20 I/O within a width of 55mm, including bus connection
removable terminal block connections method
direct mounting on DIN rail

Benefits

Simply optimum!

Open and modular, this solution enables the creation of separate groups of industrial I/Os, each positioned as a near to the machine as possible, that are managed by a master controller (PLC, PC or variable speed drive) via a fieldbus or communication network. Simple to select and install, Advantys OTB reduce your cabling costs...

Applications

Designed for simple and compact machines, the Advantys OTB solution integrates perfectly in Twido and Modicon TSX Micro automation platforms.