C120
Miniature Circuit Breakers up to 125A. Large choice of breaking capacities and tripping curve.
Part of 9 Series
Acti 9 Miniature Circuit Breakers - MCBs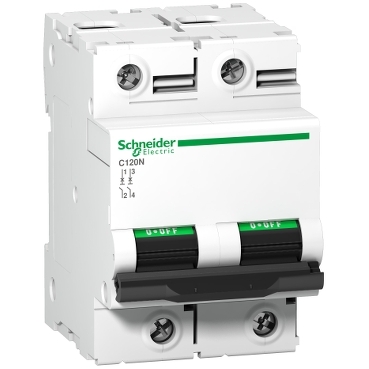 Features

Nominal current: 10 to 125 A
Large choice of breaking capacities and tripping curves: B, C, D…
Compliance with standards: IEC EN 60898 or IEC 60947-2 depending on the version, certified by national official authorities
Suitable for isolation in accordance with industrial standards: IEC 60947
Operating voltage: up to 440Vac, insulation voltage: 500V
Optional add-on earth leakage modules: C120 Vigi
Optional auxiliaries: indication of state and tripping, shunt trip, undervoltage trip, overvoltage trip

Benefits

Quality without boundaries

The C120 circuit-breaker, derived directly from the C60, is recognised in over 100 countries for its quality and the breadth of its range, making it an indispensable component for developing low voltage installations with complete peace of mind.

Applications

Protection of electrical circuits in all industrial and tertiary buildings.