iTR
Modular safety transformers and bell & buzzer transformers. Wide range according to DIN standard.
Part of 9 Series
Acti 9 Indication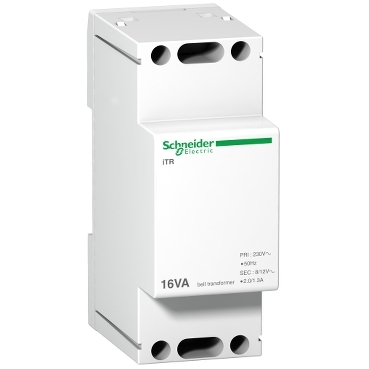 Features

Allow for a very low voltage (ELV 8 V, 12 V or 24 V) to be obtained from a low voltage network (LV 230 V).
Primary and secondary circuits perfectly insulated by each other
Primary voltage:230 V AC
Secondary voltage:8-12-24 V AC
Power:4, 8, 16, 25, 40, 63 VA
Resistant to short-circuit currents thanks to the built-in device
Compliance with standards:IEC 61558-2-6


Benefits

The solution is on the switchboard

Wide range according to DIN standard:Simplicity
Coherent product design:Peace of mind
Innovations serving robustness:Productivity
Many associations of products by simply clip-on:Flexibility

Applications

Control and command of electrical circuits in all industrial and tertiary buildings.