NetShelter

Metered-by-Outlet Rack PDUs
Metered-by-outlet Rack Power Distribution Units (PDUs) provide real-time remote monitoring of each individual outlet to empower IT professionals with the necessary tools for advanced data center energy management.
Part of NetShelter
World leader in Rack Power Distribution now with Metering-by-Outlet!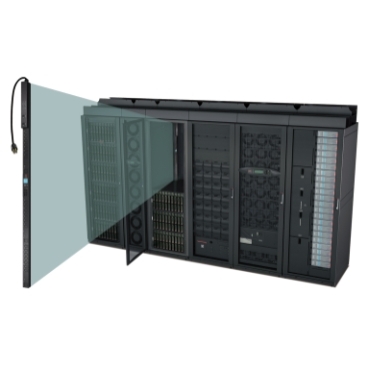 Features

APC Metered-by-outlet Rack Power Distribution Units (PDUs) provide active metering of individual outlets to enable energy optimization and detailed capacity planning. User-defined alarm thresholds mitigate risk with real-time local and remote alerts to warn of potential circuit overloads. Metered-by-outlet rack PDUs provide a more granular level of power utilization data to allow Data Center Managers to make more precise decisions on load balancing and right sizing IT environments to lower total cost of ownership. Metered-by-outlet Rack PDUs include individual outlet power metering, a temperature/humidity sensor port, and locking IEC receptacles. Users can access and configure Metered-by-outlet rack PDUs through secure Web, SNMP, or Telnet Interfaces and are complimented by APC Centralized Management platforms using StruxureWare Data Center Expert, Capacity Manager and Change Manager.



Benefits

Availability

Alarm Thresholds - Define alarm thresholds in order to avoid overloaded circuits. Network and visual alarms inform the user of possible problems. (Note: Only available on units with the current monitoring capabilities. Please see SKU specifications for availability)
Local Current Monitoring Display - The aggregate current draw per rack PDU is displayed on the unit via a digital display. The local digital display helps installers avoid overloaded circuits by providing a visible warning when the current draw is close to the maximum amperage draw of the strip. (Available on designated SKUs only)
Metering-by-Outlet capability - Individual outlet level power metering provides a more granular view of the power distributed to equipment within the enclosure. It also provides the ability to analyze component power trends and perform capacity planning.
Network Management Capabilities - Full-featured network management interfaces that provide standards-based management via Web, SNMP, and Telnet. Allows users to access, configure, and manage rack PDUs from remote locations to save valuable time. Associated with this feature is the ability to quickly and easily upgrade the firmware via network download to installed units for future product enhancements.

Agility

Single input power source - Supply power from one branch whip to multiple pieces of equipment, conveniently powering rack-mount equipment. Saves time and money during installation by using one branch whip and standard connections.