Granado Pharmácias: Customer Story Key Figures

Production increased by up to 15%

Future-proof

Improved quality
How digital transformation creates new value in food and beverage manufacturing
Digitization enables the Food and Beverage industry to increase profitability in a rapidly changing environment.
A natural recipe for digital transformation

Brazil's oldest cosmetics company embraces advanced manufacturing to secure its future.
Discover EcoStruxure
Learn how your business can achieve success with EcoStruxure: Innovation at Every Level.
Modernize the factories and production processes of historic cosmetics line to secure the company's competitive position in the marketplace through:

• Better integration between multiple production lines

• Tailored & flexible production

• Identification of bottlenecks

• Reduction of time to market

• Ensuring end-product quality and consistency
Apps Analytics and Services: AVEVA's Historian and Batch Management*, Lifecycle Services
Edge Control: Modicon M580 and M340 PLCs, and EcoStruxure Hybrid DCS (with customized library with situational awareness)
Connected Products: Altivar Process LV drives

• The innovative EcoStruxure Hybrid DCS enables control and supervision in the same engineering, maintenance, and operations environment, unifying all devices, components, and accessories into a single tool.

• AVEVA's Batch Management controls complex batching processes to further improve operations and production traceability, which helps to ensure consistently high product quality.

• AVEVA's Historian stores all the manufacturing data, both historical and real-time, enabling Granado to build and visualize production reports.


* The Schneider Electric industrial software business and AVEVA have merged to trade as AVEVA Group plc, a UK listed company. The Schneider Electric and Life is On trademarks are owned by Schneider Electric and are being licensed to AVEVA by Schneider Electric.
• 10-15% increase in production

• Simple and fast reconfiguration for new products

• Better quality products through improved processes and traceability

• Compliance with FDA standards

• Empowered and more efficient workforce

• Future-proof solution
Tatiane Stoeterau, Industrial Production Manager, Granado Pharmácias
Customer Testimonial
"We have increased our efficiency, improved the quality of our products, and we have also been able to trace any stage of the process."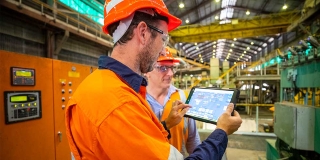 Industrial Automation
Software