Smallest size in the range

ComPact NSXm moulded case circuit breakers deliver proven performance, flexibility and reliability with innovative new features including EverLink™ power connections and integrated earth leakage protection.

Also featured within the ComPact range is our exclusive Roto-Active Breaking System; reducing the effects of short circuits of your installation.
Save up to 40% installation time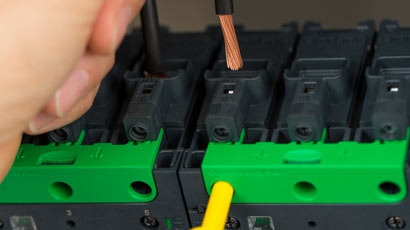 Improved wiring efficiency
EverLink connectors for reliable and quick bare cables connections.
One-click auxiliaries
Field-installable, externally visible, and easy to wire.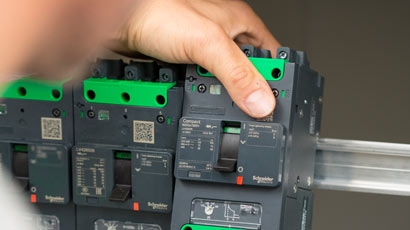 Flexible installation
Click your breaker into place with built-in DIN rail and plate mount capability.
Gain space and save time with your installation. ComPact NSXm moulded case circuit breakers are now available with integrated earth leakage protection, which means one less item to add to your electrical panel for dedicated protection.
Enhance Sustainability

The world is becoming more electric, digitised, decarbonised and decentralised. Our digitised LV products are powered by innovation at every level enabling enhanced connectivity, real-time operations and smart analytics. 



They bring improved safety and security. They help you to improve reliability and performance – and to prepare for the future of power distribution.
Discover more technical information
ComPact NSXm moulded case circuit breakers from 16A to 160A include new features such as EverLink connections and integrated earth leakage protection. Explore the additional features, benefits and technical information.
Optimise your electrical distribution design

Get more insights on low voltage selectivity, cascading and coordination tables including the new MasterPact MTZ air circuit breakers, ComPact NSX & NSXm moulded case circuit breakers, Acti 9 miniature circuit breakers and more in our complimentary technical guide.

Deliver reliable connections

With EverLink power connection, ComPact NSXm moulded case circuit breakers provide you with a reliable, long-lasting power connection. Watch this video to learn more about this patented technology.

Is your installation secure?

Learn how to ensure a secure, long-lasting power connection for your electrical installation in our complimentary white paper.

Electrical fire protection begins with prevention

Across the globe, electrical fires cause significant damage to buildings of all sizes. ComPact NSXm MCCBs are just one of our solutions for electrical fire prevention. Explore the risk areas, discover protection tips and view our other solutions to help you design, build and install.
View all the ComPact products
Request a call back
Save time by starting your sales enquiry online and an expert will connect with you! Please help us respond to your needs by supplying the following details. 
To make a technical support inquiry, please contact support.
Chat
Do you have questions or need assistance? We're here to help!