The technological world around us has become highly dependent upon the continuous availability of electrical power. Sophisticated technology is now an integral part of our lives both at home and at work, and with the advent of e-commerce the way in which we interact with the rest of the world is continually changing. 
Intelligent technology demands power that is free of interruption or disturbance. Many of the issues associated with equipment failure, software and data corruption and downtime are the result of a problematic supply of power.
Downtime is not an option
Power protection has never been more critical than it is today; businesses rely on their IT infrastructure and networks in order to ensure that they are fully functional at all times.
This includes a growing culture of employees that need "always-on" technology, whether they are in the office or working from home. Reducing equipment downtime, and thus increasing profitability, is now a new priority for any size of business. 
In today's 'always on' world, downtime is not an option. Uninterruptible power supply (UPS) plays a critical role in ensuring resilient power infrastructure.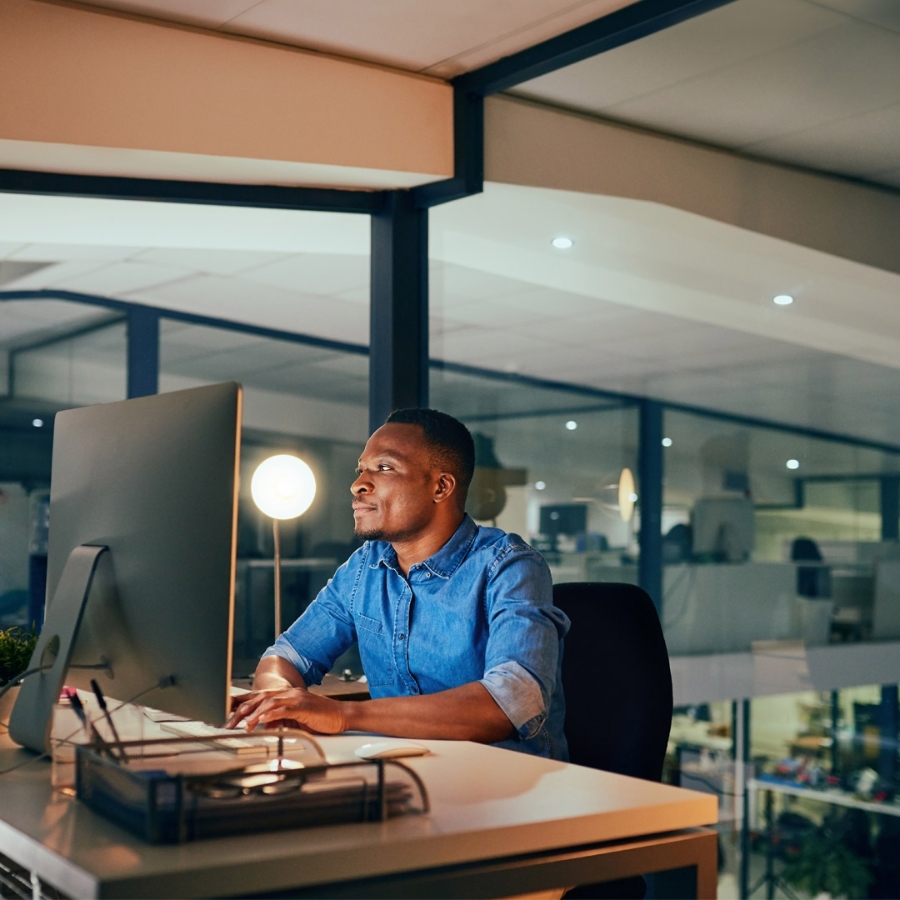 UPS stands for Uninterruptible Power Supply. A UPS device provides back up power stored in batteries to a critical load when the primary power source fails, providing near-instantaneous protection from harmful power interruptions. A UPS device or system can be used to protect critical applications in homes, small and medium businesses, data centres and other applications from unexpected power disruptions which could potentially cause injury or death, severe business fluctuations, or data loss.

In order to establish which Easy UPS device best suits the needs of the application, the voltage range – or kVA value – of the equipment to be protected needs to be understood.  Generally, loads of 10kVA or less can safely use a single phase UPS. Larger loads will likely need a 3-phase UPS.  

If it is determined that a 3-phase UPS is required, the next question is whether to use a 3-to-1 phase or a 3-to-3 phase configuration. A 3-to-1 UPS takes in 3-phase power but puts out single phase while a 3-to-3 phase configuration takes in 3-phase power and likewise delivers a 3-phase output to the downstream loads.

UPS Capacity

A UPS device must have enough capacity to support all the equipment it is required to protect – otherwise known as the 'load'. 

The total Load is the combined amount of power that each of the devices connected would draw from the power supply. To calculate the load, list all equipment to be protected by the UPS including the total Voltage Amp (VA) rating that each piece of equipment requires to run correctly. All modern-day equipment and appliances will indicate the VA rating. 

Some devices may list their power requirements in Watts. To convert watts to VA, simply divide the watts by the 'power factor' of the device or appliance. If the power factor is not listed, use 0.8. 

When selecting a UPS, be sure that the total VA requirement of supported equipment does not exceed the VA rating of the UPS. Click here to use our online calculator to determine the power draw of your equipment.

Runtime


Runtime is the number of minutes a UPS system can support the connected load during a power outage. The minimum runtime should be based on the time required to allow graceful shutdown of critical equipment.

A 'graceful shutdown' is when all devices can be closed and shut down following standard procedures, thus avoiding a sudden 'Hard' shutdown which might result in loss of work or data.

'Topology' refers to the layout of a system - the way in which constituent parts are interrelated or arranged.


UPS Topology relates to the components and internal wiring used by a UPS device to deliver its power protection. Determining which Topology you should use is based on two main factors: the type of equipment you need to protect, and the importance of that equipment in maintaining your critical business operations.

Line-interactive UPS systems typically transfer from mainstream supply to battery-derived power within two to six milliseconds, which is more than fast enough to keep all but a small percentage of the most power-sensitive equipment operating without interruption. Line Interactive Topology is widely used in IT Server & Communication Room applications, supporting Business-grade Servers, Storage, CCTV, POS and Networking equipment. Smaller units are also found around the home supporting Home Office PC's and peripherals.

Double conversion online topology is preferred for highly critical loads that are very sensitive to power fluctuations. Double Conversion On-line UPS systems have ZERO transfer time because the inverter is already supplying the connected equipment load when an outage occurs. 

Double Conversion Online Topology is essential for medical environments where instantaneous protection is critical. Double Conversion Online topology is also very prevalent in industrial environments supporting production and manufacturing lines, remote and harsh power environments found in the Roads and Rail transport sector and Oil and Gas applications.

IEC appliance couplers and connectors comply with the International Electrotechnical Commission (IEC) standards - a fixed set of input and output receptacles that can be installed by the user. Quite simply put: 'Plug & Play' connections. 

Hardwired connections necessitate that a qualified electrician is used to connect the UPS device directly to the electrical distribution panel at the installation location.

An SNMP card provides direct communication with the Easy UPS device, and with it the ability to monitor and manage UPS device status remotely through either the UPS Web interface or through EcoStruxure IT's cloud-based and on-premise software suites. Several models in the range can be adapted with the addition of an SNMP card facility.

Click here

for more information about EcoStruxure IT.
Product Selection Tool
Our Product Selector tool helps you select the products matching your needs. Catalogue reference or configurable product, this tool will help you save time finding the products and compatible accessories. No need to log-in: enjoy the easy selection at any moment, anywhere.
Product Selector
Easy UPS Single Phase Range
The Schneider Electric Easy UPS series are easy-to-install, easy-to-use, and easy-to-service. Trusted by millions of professionals around the globe.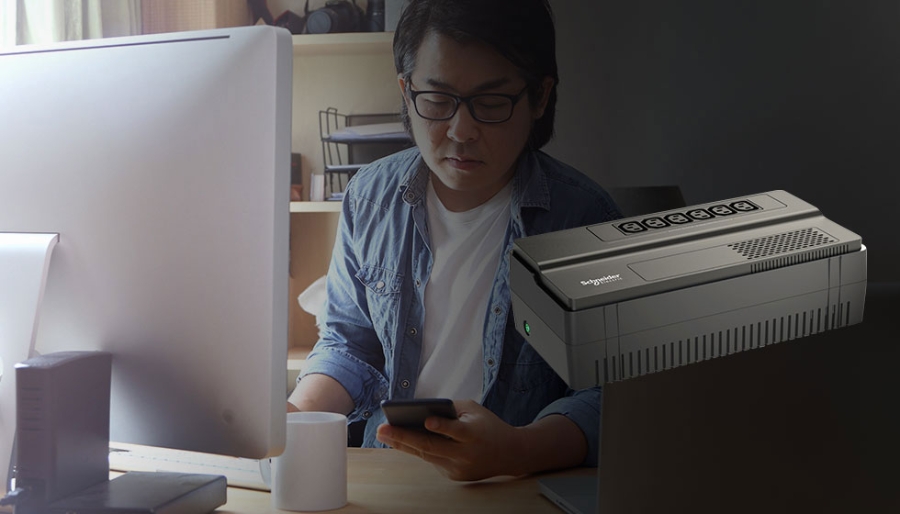 Easy UPS 1 Ph "HOME & OFFICE" (BVS) Series
Easy UPS 1 Ph BVS Series provides basic power protection for unstable power conditions, ensuring consistent and reliable connectivity at the most critical moments.
Topology: Line interactive 
Input/output: Voltage: 230V
VA Output: 500-1000
Watt Output: 300-600 
SNMP Option: No 
Installation: IEC connection 
Standard Warranty: 2 Years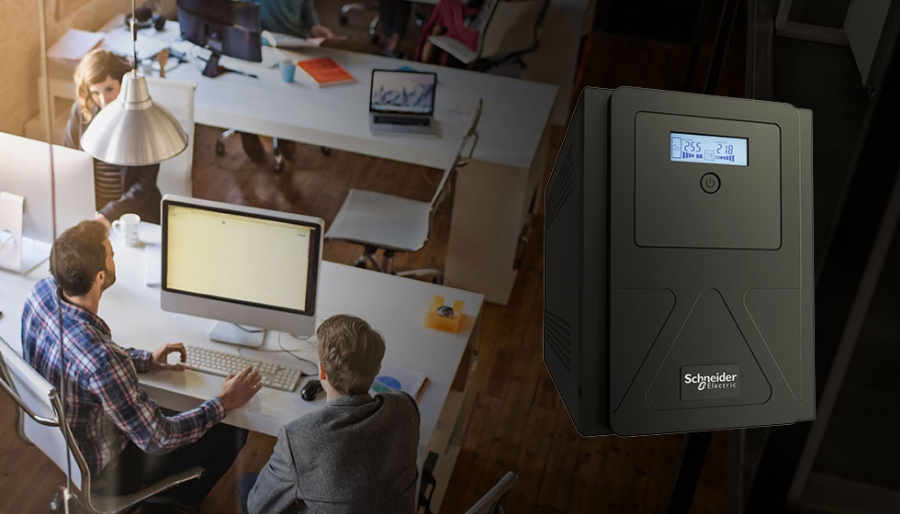 Easy UPS 1Ph "IT" (SMVS) Series
An Uninterruptable Power Supply offer designed for essential power protection in the most unstable power conditions. With additional SNMP card compatibility and 'Dry Contact' Audible or visual alerts.
Topology: Line interactive 
Input/output Voltage: 230V
VA Output:  750-3000
Watt Output: 525-2100
SNMP Option: Yes
Installation: IEC connection
Standard Warranty: 2 Years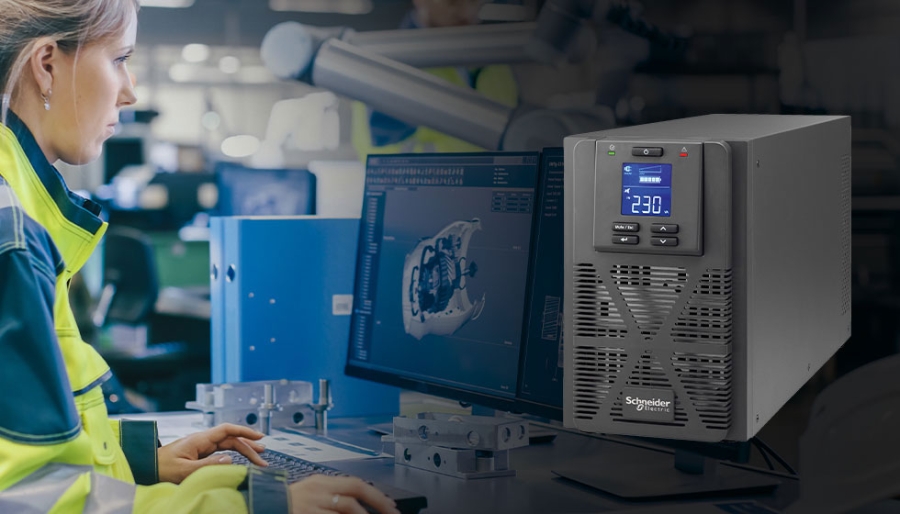 Easy UPS 1 Ph "CRITICAL POWER" (SRVS) Series
For small to medium businesses, the Easy UPS SRVS series provides essential power protection for unstable power conditions, ensuring consistent and reliable connectivity at the most critical moments. With Double Conversion ZERO delay protection capability within the offer. ​
Topology: Double conversion online
Input/output Voltage: 230V
VA Output:  1000-10000
Watt Output: 800-10000
SNMP Option: Yes
Installation: IEC connection up to 3000VA
Installation: Hardwire over 3000VA
Standard Warranty: 2 Years UPS only
Easy UPS Three Phase Range
The Schneider Electric Easy UPS 3 Series is an easy-to-install, easy-to-connect, easy-to-use, and easy-to-service 10-200 kVA 3 phase UPS ideal for small and medium businesses, data centers, and other mission critical applications.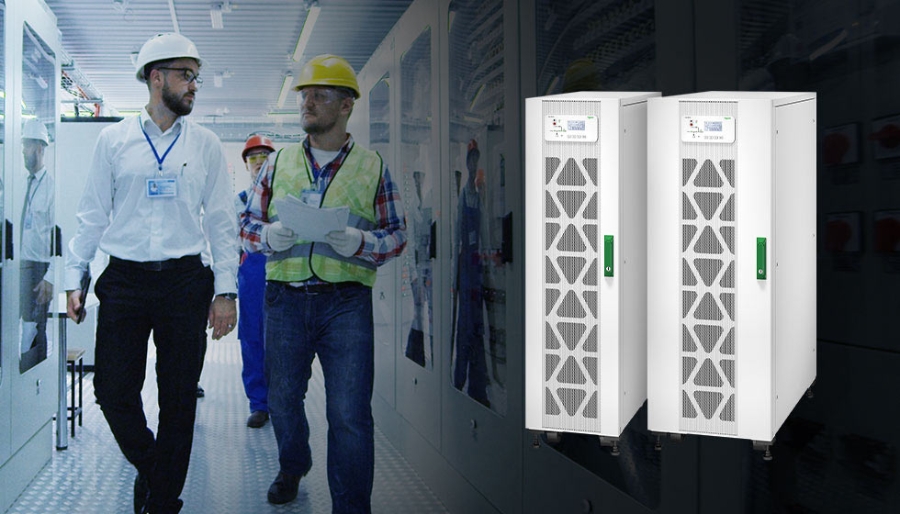 Easy UPS 3S
Topology: Double conversion online 
Input Voltage: 400V 
Output Voltage: 400V/230V 
kVA Output:  10-40 
kW Output: 10-40 
SNMP Option: Yes 
Installation: Hardwire 
Standard Warranty: 1 Year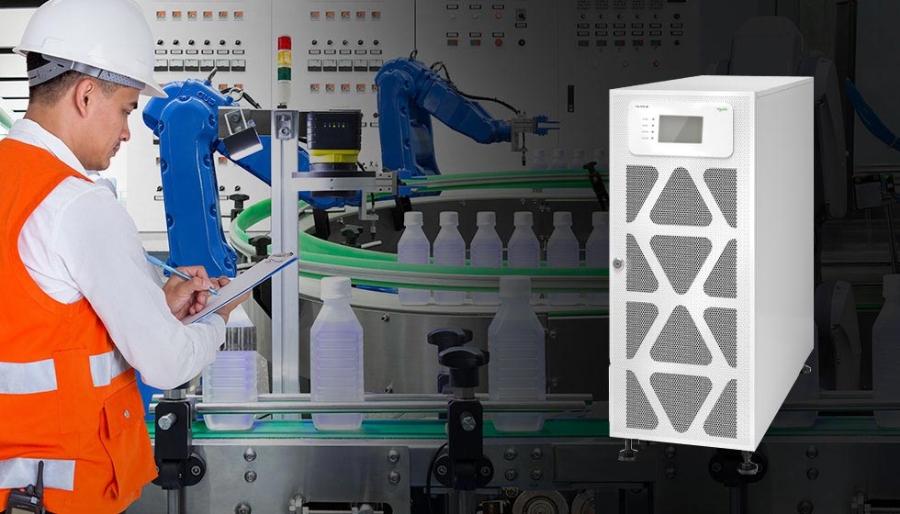 Easy UPS 3M
Topology: Double conversion online 
Input Voltage: 400V 
Output Voltage: 400V
kVA Output:  60-200
kW Output: 60-200
SNMP Option: Yes
Standard Warranty: 1 Year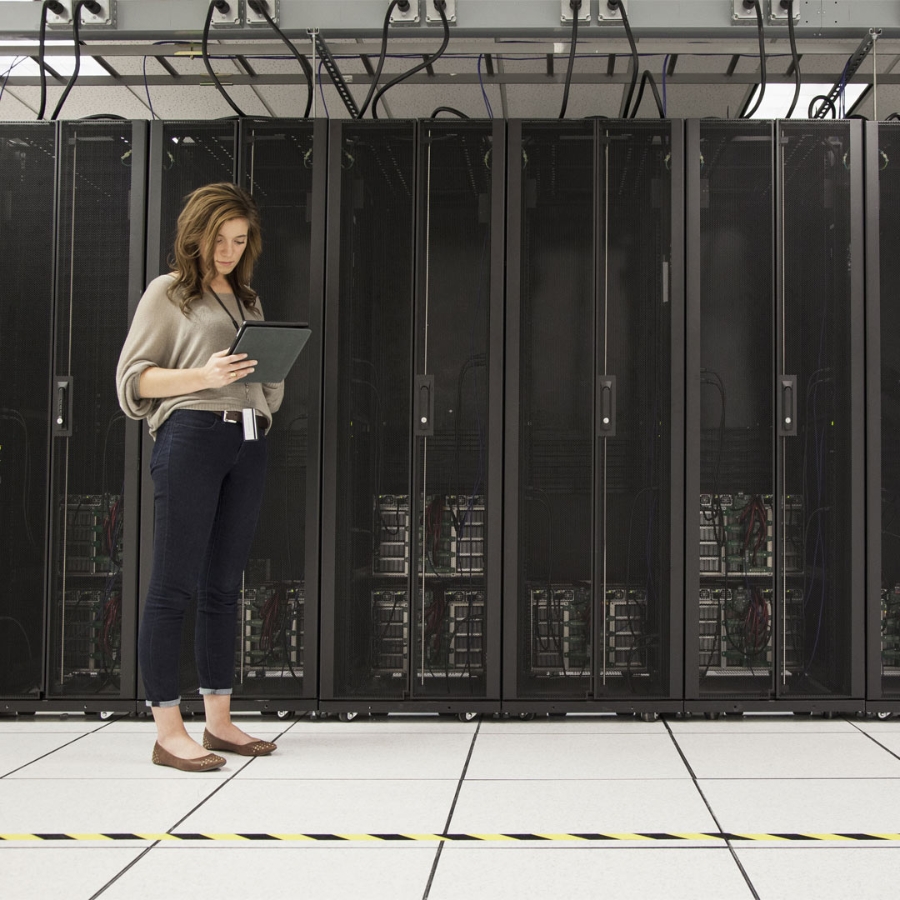 UPS Start-Up
Easy UPS and 3M devices must be commissioned by the UPS manufacturer to ensure that they are correctly installed and calibrated. Complete the online start-up questionnaire and a member of the service team will contact you. 
Alternatively. Please contact the Service team on 0800 2799 254 (Option '3' then option '1') to arrange start up of your UPS device.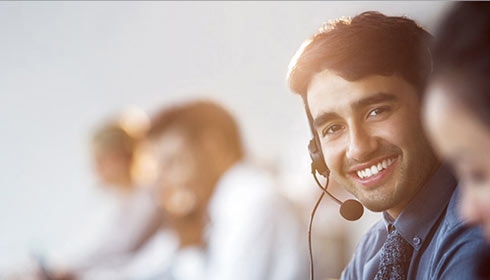 Extended Warranty
Get an extension of factory warranty coverage beyond the original factory warranty term for peace of mind and protection from failure. 
The Extended Warranty provides peace of mind and product failure protection beyond the Service Pack or Factory warranty period. Once the Factory warranty for your UPS  expires, should your product fail, you expose yourself to potential loss of power protection and costly out of pocket expenses for repairs.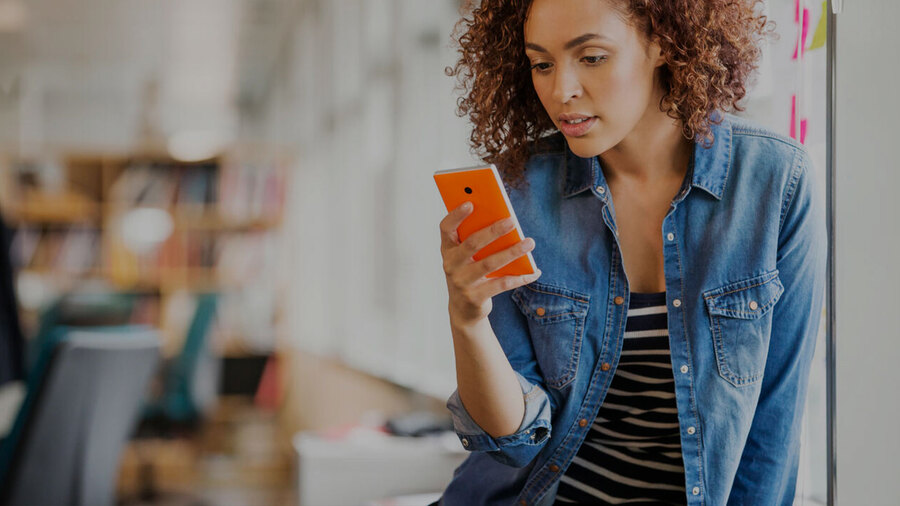 Request a call back
Save time by starting your sales enquiry online and an expert will connect with you! Please help us respond to your needs by supplying the following details. 
To make a technical support inquiry, please contact support.
Chat
Do you have questions or need assistance? We're here to help!