Enterprise Corporate Data Centre Solutions
IT Department Strategies and Physical Infrastructure are critical to every Automotive Company — to exist today, remain profitable and also to grow and even to exist in the future. The right IT strategy has never been so important, whether the need is driven by facility digitisation, new mobility or service models, connected or autonomous vehicles, through to digital dealerships/retail of the future.

IoT-enabled EcoStruxure™ for Data Centres

Will your data centre be able to handle your next big idea? Your next mobility solution or service? Your company's digital evolution? See how scalable EcoStruxure™ IT solutions help ready your business for growth.

Data Centre Playlist

Latest Schneider Electric case studies, references and educational videos on Data Centres and IT infrastructure.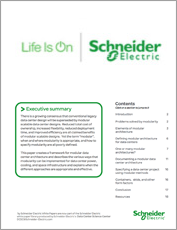 White Paper
IT reference designs for physical infrastructure systems including facility power and cooling systems
Read the White paper
IT Resource centre
A single platform providing comprehensive insight on all data centre-related topics
Explore now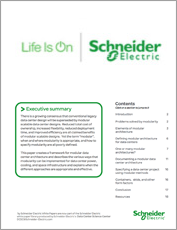 White Paper
How data centre pod frames reduce costs and accelerate IT rack deployments
Access White paper
Find products and solutions
Edge Computing in Automotive
Edge Computing is bringing Value to the Automotive Enterprise of today and we think it will be an important consideration going forward. Whether from the Granularity of Prefabricated/Modular Data Centres or Micro Data Centres, whether the applications are Manufacturing, Research and Development Centre, Logistics/Distribution through to Auto Retail/Dealerships, enabling Scalable, Agile and Flexible IT Infrastructure strategy requirements that our Automotive Customers require.

What are the Best Practices for Designing Edge Data Centres in Hybrid Cloud Environments?

A discussion on considerations when deploying Edge Computing infrastructure.

Prefabricated Data Centres

Schneider Electric's Prefabricated Data Centre manufacturing facility in Barcelona, Spain.

Micro Data Centres overview

Micro Data Centre solution — a solution with many use cases in edge computing for our Automotive customers. They offer reduced latency and increased physical security, and enable you to deploy IT equipment in close proximity to a data intensive application.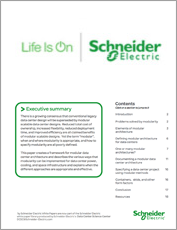 White Paper
Why cloud computing is requiring us to re-think resiliency at the edge
Read the White paper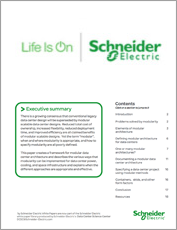 White Paper
Specification of modular data centre architecture and modularity implementation for data centre power, cooling and white space infrastructure
Read the White paper
Find products and solutions
Data Centre Infrastructure Management
Our Automotive customers have facilities across the globe from corporate data centres to regional-, national- and facility-level IT infrastructure. This infrastructure is critical to our customers' success. We have various on-premise and cloud-based solutions to enable you to have full visibility and control of every aspect of your IT Infrastructure.

10 real-world scenarios where DCIM matters

Learn how Data Centre Infrastructure Management will make an essential difference in your Automotive enterprise IT infrastructure.
White Paper
How Data Centre Infrastructure Management software improves planning and cuts operational costs.
Find products and solutions
Physical infrastructure systems are expected to perform to the facility design's specifications, even as business and IT requirements change. Understanding the bigger picture—what occurs in each of the lifecycle phases, what the key management tasks are, what pitfalls exist and how one phase impacts the next—can help organisations achieve their data centre cost, speed of deployment, availability and efficiency goals.

Data Centre Life Cycle Services — Assess, Plan, Design, Build and Operate your Data Centre

See how Schneider Electric can help you Assess, Plan, Design, Build and Operate your Data Centre.

Advanced Operator Training

Topics commonly covered include UPS topologies, cooling concerns and issues, measuring availability and other infrastructure availability-related topics.
Services
Find the services and support you need for your critical power and cooling equipment.
Find products and solutions
Data Centre Blogs
Thought-provoking and informative content on all things related to IT Infrastructure.
IT Infrastructure Trade off tools
Web-based, mobile-friendly tools to estimate outcomes of new IT Infrastructure conception and design.
Customer Care App
Download our mobile app and get support on the go — any time, anywhere. Get it today!