Secure computing environments that are a single IT rack or smaller.

Micro Data Centre Infrastructure

Watch and learn about Micro Data Centres that are self-contained, secure computing environments that include all the storage, processing and networking required to run your applications indoors or outdoors.

EcoStruxure Platform Overview

Our EcoStruxure Platform allows you to leverage the expertise of Schneider Electric to optimise your reliability, productivity, comfort and efficiency.

NetSheter SX with Shock Packaging

Rack and stack made easy

NetShelter SX cabinet and packaging system designed to safely integrate, transport, unload and deploy up to 2000 lbs (907 kg) of IT equipment.
Solutions
Hyper-converged IT Solutions.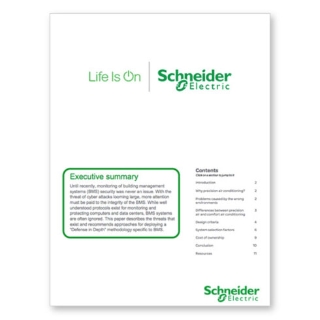 White Paper
Practical Options for Deploying Small Server Rooms and Micro Data Centres.
Click to read
Find products and solutions
The broadest portfolio of single-phase, uninterruptible power supplies for network closets.

Meet the new Galaxy VS

Increased availability. Reduced operating costs. First-class power protection for critical infrastructure.

UPS Management, Maintenance and Lifecycle

Simple recommendations and guidelines to help you manage your UPS to maximise the life and performance

Cooling Strategies

For IT Wiring Closets and Small Rooms

The science and practical application of an improved method for the cooling of wiring closets

Converting IT Closets into Edge Computing Sites

Learn how Edge Computing is revolutionising the way IT rooms and small data centres are being configured.
Brochure
Maintain business certainty with intelligent and efficient network power protection for your network closets and server rooms.
Download here
Find products and solutions
Integrated cooling solutions to rely on for network closet applications.

Cooling Portfolio Overview

Schneider Electric's. There's no better way to cool.

EcoAisle: Flexibility Meets Innovation

EcoAisle delivers the most value, making it the best choice for cold and hot aisle containment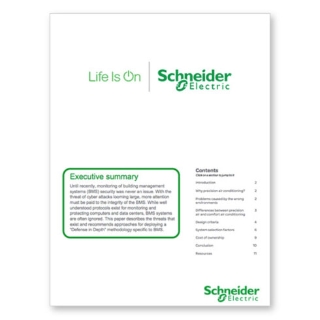 White Paper
Avoidable Mistakes that Compromise Cooling Performance in Data Centres and Network Rooms.
Download now
Find products and solutions
Receive smart alarms and insights from all of your network closets right on your smartphone, tablet or PC.

Rethinking Data Centre Resiliency at the Edge of your Network

Learn from the experts — Kevin Brown, SVP Innovation and CTO for Schneider Electric's IT Division, shares his insights on why server rooms and edge closets dominate system availability and why these mission-critical micro data centres, if not designed and managed correctly, could be your weakest link.

EcoStruxure™ ensures continued learning at Bainbridge Island School District

With limited resources to manage its distributed IT and data centre, EcoStruxure IT provides one-tap visibility to all device data, smart alarms and data-driven insights, plus 24/7 digital monitoring and troubleshooting.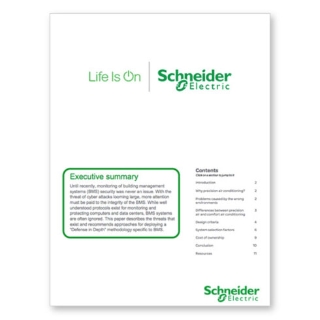 White Paper
Addressing Cyber Security Concerns of Data Centre Remote Monitoring Platforms.
Learn more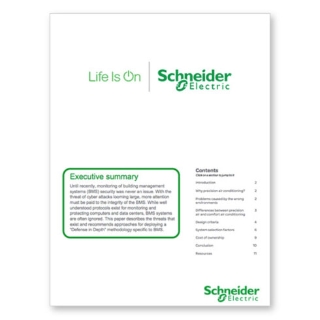 White Paper
How cloud-based monitoring is improving data centre operations and maintenance.
Read more
Learn more
EcoStruxure™ IT provides you visibility to your entire IT infrastructure — in the data centre, in the cloud, at the edge.
Find products and solutions
Mount and secure networking equipment and IT equipment

Small and Powerful: IT Solutions for Server Rooms and Network Closets

Bigger isn't always better. With everything from racks to PDUs, to management software, APC by Schneider Electric can turn any space into an IT environment.

NetShelter SV

Assembled and unassembled for those environments that require a reliable rack-mounting space, with security, in a cost-effective manner.

Micro Data Centre Infrastructure

Micro data centres can be beneficial when you need to install in harsh or outdoor environments. They offer reduced latency and increased physical security, and enable you to deploy IT equipment in close proximity to a data intensive application.
Find products and solutions
Data Centre Blogs
Latest thought-provoking content and market insights from Schneider's executives and subject matter experts.
Data Centre Reference Designs
Library of designs that enable rapid and accurate planning.
Data Centre Videos
Latest Schneider case studies, references and educational videos.
Request a call back
Save time by starting your sales enquiry online and an expert will connect with you! Please help us respond to your needs by supplying the following details. 
To make a technical support inquiry, please contact support.