Stylish, smart, and code-compliant. Square D Energy Center's scalable design adapts to meet your future needs.
Convenience and conservation come together.
Maximum protection
Whole-home surge protection comes standard, keeping clean power running to your appliances and preventing costly damage.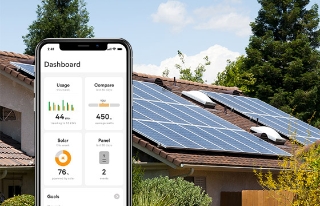 Super solar
Use your home's solar energy when you need it most, like when the grid goes down — even if your system is tied to the grid.
Actionable data
Give your home a digital voice, and see how much energy each appliance uses in real time.
Recognized for innovation in sustainable technology for your home
National Association of Home Builder Award for Global Innovation
International Builders Show Global Innovation Award
Mashable: The Best Sustainable Tech At CES 2021
Tom's Guide CES 2021 Awards: The best new products of the year
ZDNet: CES 2021 event report: What's hot and useful in the enterprise
Stress-free backup power
Enjoy seamless backup power integration, whether it's via battery storage, solar, or generators. Eliminate the need for a subpanel and rewiring when (re)assigning loads to backup source.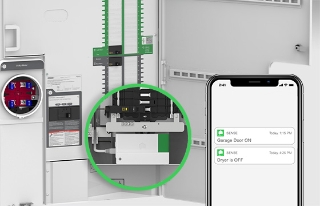 Control home energy from your phone
Receive custom safety alerts, like when garage doors open. Monitor energy use in real time. All from the Square D version of the Sense app.
Are you a home builder?
Talk to a Schneider Electric connected home solutions specialist.