TeSys

DF and LS1
Fuse carriers from 25 A to 125 A, up to 690 V
Part of TeSys
Short-circuit protection of any low-voltage electric installation: control circuits, transformers, motors, etc.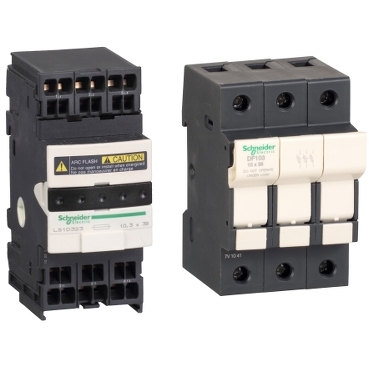 Features

TeSys DF

Fuses from 25A to 125A
Compact size helps to reduce the overall size of the installation.
Ergonomic handle for easier opening.
Version for Class CC fuses
Cylindrical cartridge fuses: 8x32, 10x38, 14x51 and 22x58 up to 690V, from 25 to 125Amps
LED blown fuse indicator
Dual position locking system for easy DIN-rail mounting
Multi-pole configurations 1P, N, 1P+N, 2P, 3P, 3P+N
Certifications: IEC 60947-3, UL512 and CSA, RoHS compliant
Protection against direct finger contact

TeSys LS1

45 mm wide mounting dimensions, matching TeSys starters and contactors
Accepts Class CC fuses (such as Bussmann FNQ-R or KTK-R)
US Fuse Types CC, KTK-R
European Fuse Types aM, gG
Rated 30A, 600 Vac, 3 phase
Uses screw clamp terminations (spring terminal version under development)
Connects to LC1D09 through LC1D38 contactors (with use of GV2AF3 connector or GV2AF4)
Meets application needs for fusible starter

Benefits

Simple and effective protection!

Fuse protection is a reliable and effective solution to protect your low voltage equipment against short-circuits that can cause major damage to your installations and generate risk for equipment and personnel, as well as significant production.