Altivar IMC - Drives Controller
End of commercialization December, 2017
This Product is Obsolete
Intended for legacy product support only. To search for a replacement product, click below on Product Cross Reference.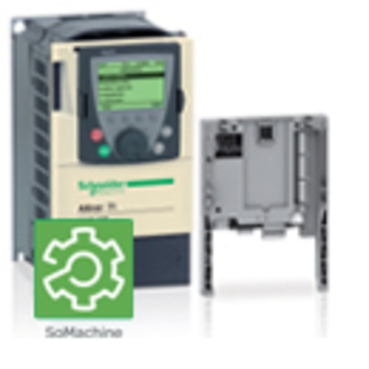 Features

ATV-IMC Integrated Controller Card for Altivar 61 and Altivar 71 variable speed drives

A more intelligent drive
. Performs more complex operations (2MB memory)
. Reduces program loading time (Mini-B USB connectors)
. Communicates with all other system devices (embedded Ethernet connection and CANopen port)
A more open human-machine interface
. Direct customization of the Altivar drive's graphic display (8 lines of 24 characters)
. Dedicated ATV-IMC menu
. Customisable menu tailored to the application

Open and communicative . Totally transparent access to all other devices in the system architecture via CANopen with FDT/DTM technology. . The ATV-IMC Integrated Controller Card can also use the :
- Drive local I/O
- Drive extension I/O card
- Drive communication option card
- Encoder interface card speed feedback counter
- Drive parameters (speed, current, torque, etc.)

Discover "Flexible Machine Control"Multiple hardware control platforms:

Benefits

Integrated controller card Altivar IMC for Altivar 61 and 71 variable speed drives
Altivar IMC Integrated Controller Card has been designed in order to satisfy the OEM requirements in terms of performance, simplicity of installation and evolution.
The ATV-IMC Integrated Controller Card is used to adapt the variable speed drive to specific applications by integrating control system functions.