View all
OsiSense XS & XT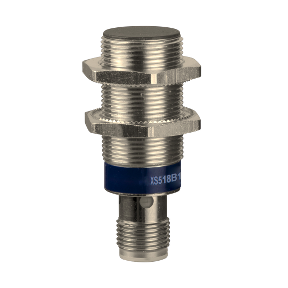 XS518B1MBU20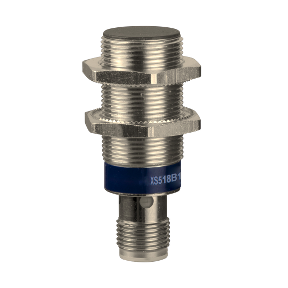 XS518B1MBU20
inductive sensor XS5 M18 - L73mm - brass - Sn5mm - 24..240VAC/DC - 1/2"
Show more characteristics
Product availability

Stock - Normally stocked in distribution facility
93.33 USD

Price is "List Price" and may be subject to a trade discount – check with your local distributor or retailer for actual price.
The maximum number of products that can be compared is 4. Remove already added products.
---
Main

| | | |
| --- | --- | --- |
| range of product | OsiSense XS | |
| series name | General purpose | |
| sensor type | Inductive proximity sensor | |
| device application | - | |
| sensor name | XS5 | |
| sensor design | Cylindrical M18 | |
| size | 73 mm | |
| body type | Fixed | |
| detector flush mounting acceptance | Flush mountable | |
| material | Metal | |
| type of output signal | Discrete | |
| wiring technique | 2-wire | |
| [Sn] nominal sensing distance | 0.20 in (5 mm) | |
| discrete output function | 1 NC | |
| output circuit type | AC/DC | |
| electrical connection | 3 pins 1/2"20 UNF male connector | |
| [Us] rated supply voltage | 24...240 V AC/DC reverse polarity protection | |
| switching capacity in mA | 5...200 mA DC5...300 mA AC | |
| IP degree of protection | IP67 IEC 60529IP69K DIN 40050 | |

Complementary

| | | |
| --- | --- | --- |
| thread type | M18 x 1 | |
| detection face | Frontal | |
| front material | PPS | |
| enclosure material | Nickel plated brass | |
| operating zone | 0.00…0.16 in (0…4 mm) | |
| differential travel | 1...15% of Sr | |
| status LED | Output state 1 LED yellow) | |
| supply voltage limits | 20…264 V AC/DC | |
| maximum residual current | 0.8 mA open state | |
| switching frequency | <= 1000 Hz DC<= 25 Hz AC | |
| maximum voltage drop | <5.5 V closed) | |
| maximum delay first up | 25 ms | |
| maximum delay response | 0.5 ms | |
| maximum delay recovery | 0.5 ms | |
| marking | CE | |
| threaded length | 2.05 in (52 mm) | |
| height | 0.71 in (18 mm) | |
| length | 2.87 in (73 mm) | |

Environment

| | | |
| --- | --- | --- |
| product certifications | CSAUL | |
| ambient air temperature for operation | -13…158 °F (-25…70 °C) | |
| ambient air temperature for storage | -40…185 °F (-40…85 °C) | |
| vibration resistance | 25 gn +/- 2 mm 10…55 Hz)IEC 60068-2-6 | |
| shock resistance | 50 gn 11 ms IEC 60068-2-27 | |

Ordering and shipping details

| | | |
| --- | --- | --- |
| Category | 22486 - SENSORS, PROXIMITY | |
| Discount Schedule | DS2 | |
| GTIN | 03389119046930 | |
| Returnability | Yes | |
| Country of origin | FR | |

Offer Sustainability

| | | |
| --- | --- | --- |
| Sustainable offer status | Green Premium product | |
| REACh Regulation | | |
| EU RoHS Directive | | |
| Mercury free | Yes | |
| RoHS exemption information | | |
| Environmental Disclosure | | |
| Circularity Profile | | |

Contractual warranty

| | | |
| --- | --- | --- |
| Warranty | 18 months | |

View more

Documents

Language

All Languages11
English10
Chinese3
French3

Technical FAQs

No results found.

Unfortunately, related FAQs are unavailable due to temporary technical issues. Please try again later.

Dimensions Drawings




Mounting and Clearance

Minimum Mounting Distances

Side by side




Face to face




Facing a metal object




Connections and Schema

1/2"-20UNF




NC output




Performance Curves

Standard Steel Target : 18x18x1 mm




(2)

Drop-out points (object approaching from the side)

(y)

Sensing distance in mm