Empower your workforce to optimize all your assets. In real time.
By providing the most effective decision-support systems, easy-to-use tools and easily understood information, received in a format that is easily actionable, you'll empower your workforce to make better operating and business decisions, in real time.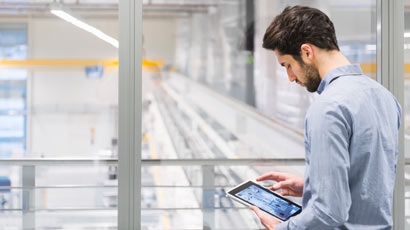 React faster to information demands
Increasing the visibility into your plant assets and process performance can increase your margins by as many as 10 points. That equates to $1.3 million for a large plant. 
At Edge control layer, Modicon M580 can help turn production data into actionable business intelligence, helping your workforce deliver this type of operational profitability improvement.
Improve your operational efficiency
Empower your teams to move from reactive maintenance to preventative, predictive and prescriptive maintenance, saving up to $800,000 in annual maintenance costs.
EcoStruxure Hybrid DCS is the only Hybrid Distributed Control System that can measurably pay for itself within three months of implementation.
Improve your productivity by up to 20%
Give your operators increased control, visibility and decision-making abilities thanks to Altivar Process – a smart, connected and services-oriented variable speed drive. Now, you can benefit from real-time intelligence on all aspects of your plant.
• Monitor the efficiency of your devices to determine their best efficiency point.
• Empower your operators with customized web server delivering complex production insights clearly and intuitively.
Altivar Process, with embedded process control, allows information to be extracted via the drive from a smart connected device to determine its best efficiency point.
Use enterprise-wide Big Data and predictive analytics to reduce real-time efficiency risks
Valuable raw data converted into easy-to-use analytics and actionable information.
• Monitor and adjust every control loop across multiple plants and global sites 24/7.
• Optimize the real-time efficiency of the process throughout the plant lifecycle
• Improve business performance EcoStruxure Control Advisor is a native smart decision-support tool that provides plant personnel actionable real-time operating data and predictive analytics capabilities.
Contact sales and support
From technical support to complete customer service, we care about your business and individual needs.