Simplify CT Installation with Separated Distribution Panelboards
The removable cables between each section of Square D NF and NQ Separated Distribution panelboards enable unparalleled ease for the field installation of CTs between sections in a panelboard. Installation of CTs between sections is one way to disaggregate panelboards by load type, as required by Title 24 of the 2016 California Building Energy Efficiency Standards.
Separated Distribution Panelboards

California Title 24 compliant Separated Distribution Panelboards with removable cables between sections are available in 400A and 225A NQ panelboards and in 250A NF panelboard configurations.
Innovative Flexibility from the Leader in Electrical Distribution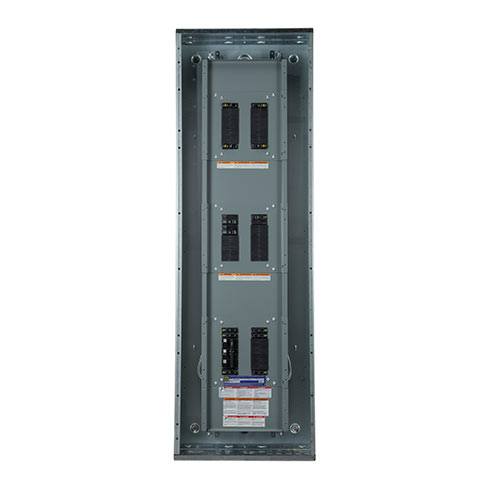 Square D Separated Distribution Panelboard Features: 
• Unique removable cables between sections – maximize solid core and split core CT choices

• cULus Listed for 3 phase systems up to 480Y/277 Vac

• Main sections with 30 or 18 pole spaces

• Split sections rated to same Ampacity as Main

• Copper bus with tin / silver flash, tin plating, or silver plating

• Series rated up to 200kA available fault current (with integral PowerPact main breaker)

• Fully Rated to up to 65kA

• Branch circuits up to 125A at 480Y/277 Vac, or 150A at 208Y/120 Vac

• Installs in most environments – NEMA 1, 2, 3R, 4 /4X, 5, or 12

• Available seismically qualified
Separated Distribution and Split Bus Panelboards
These constructions provide compact, affordable separation of circuit protection for lighting, HVAC, renewable energy, and appliance, and other electrical systems up to 480Y/277 Vac, with available fault currents up to 200kA.
Cost Effective Design Strategies for California Title 24 Compliance
All Square D brand Panelboards may be configured and installed in a way that meets the 2016 California Energy Code requirements for Separation of Electrical Circuits by load type.